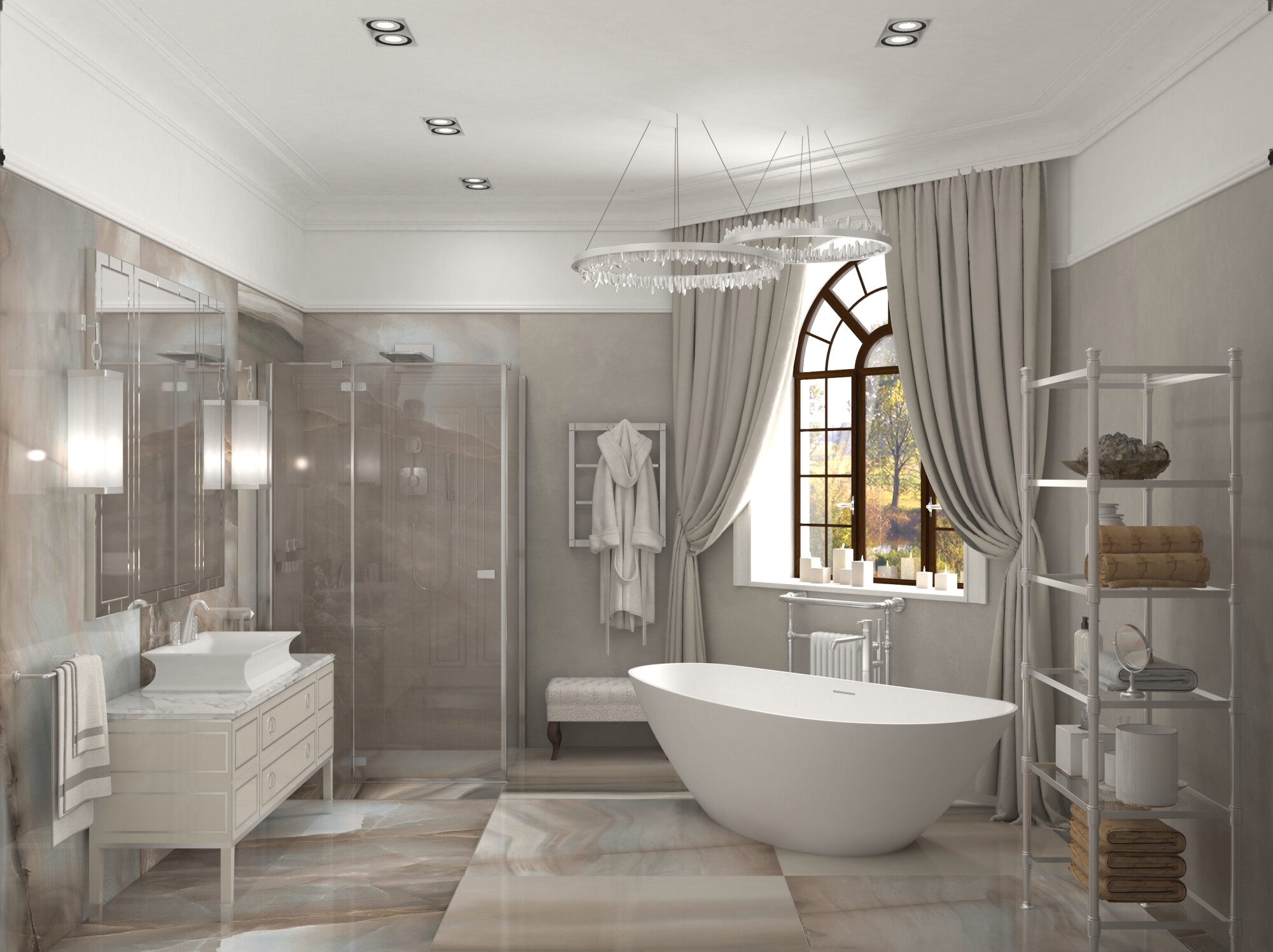 How Much Does Bathroom Remodeling Cost?
There are several reasons why you may want to transform your bathroom, but how much does bathroom remodeling cost? Depending on the wide array of factors, expect to pay between $4,000 and $25000 for a bathroom remodel.
BATHROOM REMODEL COST CALCULATOR
Responsible homeowners understand the value of improving your property. You're not alone in this respect, either. Statistics show that the home improvement industry will surpass $765 billion in revenue this year alone.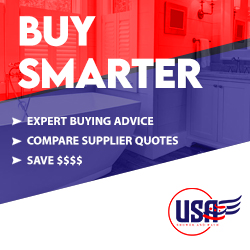 In other words, families all across the country are also investing in the repair, maintenance, and renovation of their homes. Perhaps, in particular, you've decided to renovate one or more of your home's bathrooms. If that's the case, you are likely curious about the total cost of this project.
Detailed below, then, is everything you need to know about the overall bathroom remodeling cost you should prepare for. You'll find a breakdown of specific projects within a bathroom remodel as well as the expected labor costs. Keep reading to prepare your budget and your bathroom for the remodeling it needs.
| Bathroom Remodel Project | National Average Cost | Avg. Completion Time |
| --- | --- | --- |
| Half-Bathroom Remodel | $2,230–$5,000 | 4–7 days |
| Full Bathroom Remodeling | $6,250–$15,000 | 5–10 days |
| Master Bathroom Remodel | $9,770–$30,000 | 10–15 days |
| Wet Room Install | $11,200–$18,000 | 5–12 days |
| Luxury Bath Installation | $25,000-$50,000 | 10–30 days |
Why You Might Want to Remodel Your Bathroom
Before you start tearing down walls, it's important to consider the purpose of your bathroom remodeling. Do you just want a better interior design to feel comfortable in? Rather, are you looking to boost the chances of being able to sell your home soon?
After all, even industry experts see the value of renovating your home before selling it. Not only is this a great way to maybe boost the overall property value. In addition, the right bathroom design might make the home more appealing to buyers.
Your reasoning behind this bathroom remodeling project is going to shape its general direction. For instance, if you're looking to sell your home soon, you'll likely prioritize functionality and neutral design. You want to show off that your bathroom is something new homeowners can really work with.
Maybe you want a new bathroom design just for the sake of sprucing it up. Perhaps you've lived in your home for a while and are looking for a chance to refresh it. This means you can get a little bit more creative in your bathroom design options.
Either way, take the time to brainstorm your new bathroom. Then, you can plan the right budget.
Consider Your Available Budget
Home remodeling projects are becoming more and more popular. Statistics show that American families completed one more home improvement project, on average, in 2021 than they did in 2020. If you're ready to put some money towards bathroom renovation, you should feel comfortable doing so.
Here are some of the typical costs associated with remodeling a bathroom:
Materials (tile, flooring, etc.)
Fixtures (updated toilets, bathtubs, sinks, etc.)
Decoration (mirrors, paint jobs, shelving, etc.)
Plumbing and Electrical
Labor Costs (unless you do the entire remodeling project yourself)
It's important for you to trust that your investment in your bathroom remodeling is going to be worthwhile. If you have a tighter budget to work with, that's okay. There are ways to make your upcoming remodeling project more affordable.
One major way to save money on home improvement is to attempt the remodeling project on your own. That way, you don't have to pay for heavy labor costs.
Still, remember that investing in your home is a worthy cause. You deserve to feel at ease and empowered in the living spaces you've designed and put thought into. Keep reading to see how much you might need to budget for your bathroom remodeling.
How Much Does a Master Bathroom Remodel Cost?
Because of its size, a master bathroom remodeling project is on the more expensive side. Consider comparing it to a half bath, for example. The idea of a master bathroom is to incorporate all of the fixtures a bathroom can include.
Most master bathrooms have the basic fixtures:
a toilet
a sink with a mirror
cabinetry and shelving space
a bathtub
a shower (if it's not connected to the bathtub already)
Some master bathrooms, though, contain even more features to consider. Many incorporate the master bedroom's closet(s) in the same space. In these cases, an entire bathroom renovation might affect the closet space, too.
If you're only looking to renovate some of the aesthetic features of your bathroom, the project won't cost as much. For instance, you might only want to re-tile the shower room and paint the bathroom walls a new color.
Alternatively, though, a full master bathroom remodel will be way more involved – and costly. This is even more true when you decide to pay for labor.
In general, a master bathroom remodeling project can cost anywhere from $6,000 to $20,000 (or even up to $40,000 for more luxurious projects). A nice average to budget ahead for might be $13,000 total.
How Much Does It Cost for Small Bathroom Remodeling?
Let's say you're more interested in renovating a guest bathroom instead of a master bath. Well, this could be a much more affordable project. You're looking at a total cost of anywhere between $5,000 and $12,000.
Perhaps the biggest difference in the price will depend on whether you install new fixtures like a bathtub or toilet. It's important to be prepared for these pricing categories to vary drastically.
Let's say you're looking at just renovating the smaller details, though. These might include:
Cabinetry

The good news is that cabinetry can be fairly affordable. This is especially true if you purchase ready-to-assemble cabinets and plan to install them yourself. In this case, your cabinets might cost you less than $1,000 altogether.

Painting

Again, the overall cost depends on if you paint yourself or hire someone else. This remodeling detail could only cost up to $200.

New Lighting Fixtures

On average, brand new light fixtures cost $170 for each piece. Since small bathrooms should only have 103 of these to install, this could be a cost-effective upgrade.
Overall, you can save a little bit more on cost when it comes to smaller bathroom remodeling. Think about what details for this renovation project would be most important to you.
How Much Does It Cost to Remodel a Half Bath?
In the same vein as a small bathroom remodeling project, a half bath might not cost you too much. Again, it all depends on what you're putting into the renovation.
A half bath is typically known to have the bare minimum fixtures for a bathroom. This includes a toilet and a sink for handwashing. This way, you won't need to worry about a bathtub or a shower room at all.
Since the expectations are smaller for a half bath, you have more range to really beef up the space if you have the funding. This is of particular importance if you're wanting to invest in more eco-friendly, high-powered fixtures.
For the most part, homeowners can expect to pay between $3,000 and $7,000 total to remodel a half bath. If you're hoping to really "wow" guests to your home with your new half bath, be willing to spend on the heavier side.
How Much Does It Cost to Remodel a Bathtub?
A brand new bathtub might be the most expensive renovation detail in your overall budget. Let's take a closer look.
Bathtubs can end up costing a lot – especially if you want the more stylish ones. A standard, brand-new bathtub with no stylish details might only cost around $1,500. You can picture these as the basic square tubs that, while they might be clean and modern, don't have a lot of extra design flair.
If you're wanting something more like a clawfoot tub in your preferred pastel coloring, though, think again. You could be looking at a cost of all the way up to $8,000 for the bathtub alone.
We haven't even mentioned water jets in your tub, either. This modern technological advancement often adds at least $1,000, if not more, to what would be the total cost of your new bathtub.
This doesn't even include the likely plumbing job you would need for a proper bathtub installation. As mentioned above, labor costs are a separate entity altogether that we'll discuss later.
One way the cost might not be so high is if you're just refinishing your existing tub. It's a brand-new installation that will hike up the price.
Use the chart below to calculate the cost to remodel a bathroom by the square foot:
Bath Remodel Cost Per Square Foot
| Bathroom Size in Square Feet | Average Price Range for a Bathroom Remodel |
| --- | --- |
| 12 | $1,300 – $2,000 |
| 20 | $2,130 – $3,300 |
| 30 | $3,000 – $4,700 |
| 35 | $3,690 – $5,400 |
| 40 | $3,860 – $6,100 |
| 45 | $4,600 – $6,900 |
| 65 | $6,800 – $9,600 |
| 70 | $7,500 – $11,400 |
| 90 | $9,500 – $13,770 |
How Much Does It Cost to Remodel a Shower?
Similar to remodeling a bathtub, updating your bathroom shower can really vary in cost. A safe range to expect for an updated shower would be between $1,500 and $10,000 (for the more luxury options). This includes both whether you're just hoping to touch up your existing shower or replace it entirely.
Let's say you want the latest shower technology that is eco-friendly. These shower types will recirculate the shower water that you use in a clean, sustainable way. On average, these high-tech shower types cost around $4,000 or $6,000 (remember, this doesn't include labor costs, plumbing, or other style additions).
While that might seem like a really expensive kind of shower, think about the long-term. Saving energy and water by recycling it (again, in a clean way) does more than just protect the environment from drought conditions. In addition, sustainable home fixtures have proven to save the homeowner money over time.
Perhaps you just want to refinish your existing shower so that the surface is smooth and even. Maybe you want to add some color to it. If so, you typically don't need to worry about spending more than a couple of thousand dollars.
How Much Does It Cost for Both a Shower and a Bathtub Remodel?
If you're looking to target both your shower and your bathtub for remodeling, this section is for you. These bathroom fixtures are called "wet areas." As the name implies, that means the materials in these two spaces need to be waterproof, which requires special care.
Expect to pay anywhere from $3,000 to $18,000 – due to the varying factors of the bathroom in question. There are a few different ways a combination of a shower and bathtub renovation might look.
Your bathtub and shower are separate wet areas, and you want to remodel them separately.

In this version, reference the above individual sections about bathtubs and showers. Your bathtub could cost between $1,500 and $8,000. Your shower could cost between $1,500 and $10,000.

Your wet areas are in one location as a bathtub/shower combination.

This might be a more affordable remodeling project. Since there are some high-quality, cost-effective bathtub/shower options on the market, this option could cost as low as $1,500 – before labor and plumbing.
It's again important to note that the quality of your end bathroom design is going to affect the total cost. If you want a luxury showerhead that "rains" or some other luxury feature in your bathroom, be prepared to pay for it.
How Much Does a Bath Fitter Remodeling Cost?
As mentioned above, the wet areas in your bathroom need special attention to make them waterproof. Perhaps the most well-known way of accomplishing this is by investing in a Bath Fitter.
The Bath Fitter brand has made a name for itself as a popular choice for waterproof bathroom fixtures. Their acrylic sheeting is perfect to protect your wet areas from allowing moisture to get into unwanted spaces in your home. For either a bathtub or just a shower Bath Fitter project, homeowners might pay between $2,000 and $6,000. For an exact quote, you should contact Bath Fitter.
The great thing about this investment, though, is that you can trust it will last. The Bath Fitter brand essentially guarantees its customers lifelong protection from this material. If you're ready to have this permanent material installed, your bathtub or shower will be protected for as long as you own your home.
How Much Does West Shore Home Bathroom Remodeling Cost?
If you're willing to pay someone else to remodel your new bathroom, you might consider West Shore. Many homeowners have looked to this brand and its long-term reputation.
Note that you can expect to pay on the higher end for their services. West Shore is considered by many to be somewhat of a luxury brand. Therefore, expect to pay between $7,000 and $15,000+ for a basic bathroom renovation. For exact quotes please contact West Shore.
One of the things you're paying for with West Shore is convenience. This is what you can expect from their one-day bathroom remodeling service:
They'll visit your home and take a look at the bathroom you're wanting to remodel. This is a no-obligation consultation that will provide you with your expected cost estimate.
They work on building your customized bathtub, shower, or other fixtures to your bathroom's measurements. They'll respect your material request and have these completely ready before they show up.
They will bring all of the materials, tools, and staff they need for the full bathroom renovation. They guarantee to be finished in one day.
If that sounds like an ideal bathroom remodeling project, take note. Their cost might be worth saving you the headache of renovating by yourself.
How Much Does Home Depot Bathroom Remodeling Cost?
Speaking of paying for a higher-end bathroom renovation, Home Depot might be an option. Again, though their renovation services might be on the more expensive side, it could be worth it. This is true, in particular, if you aren't comfortable with knowing how to remodel a bathroom on your own.
Their website has a pretty standard breakdown of what kind of bathroom remodeling costs you might expect:
Half Bath Remodel: $5,000 – $10,000
Guest Bathroom / Smaller Bathroom Remodel: $14,000 – $20,000
Master Bathroom Remodel: $30,000 and up
For exact quotes, please contact Home Depot.
If you're interested in having Home Depot take care of your bathroom renovation, be prepared to pay for their expertise. They didn't become a major home improvement brand name by accident. You can trust that they'll only send reliable specialists to take care of your bathroom remodeling project.
How Much Does Jacuzzi Bathroom Remodeling Cost?
Another high-quality bathroom brand name you can trust is Jacuzzi. You've heard of their water jet bathtubs and the relaxing bathing experiences they promise. If you want only the best bathtub or shower in your new bathroom, you might be curious about Jacuzzi's prices.
Well, be prepared to spend at least several thousand dollars. For just a tub replacement, for example, you're looking at a minimum of around $3,000. On the higher end, some Jacuzzi installations cost homeowners over $18,000 total. For exact quotes, please contact Jacuzzi.
Take the time to research if a Jacuzzi installation might be right for you. Their premier branding promises only the highest quality, longest-lasting materials. Plus, hiring them to install a bathtub or shower on your behalf is another way to make your renovation project a stress-free one.
Can You Remodel Your Bathroom by Yourself?
Of course, you can always save a bunch of money when remodeling your bathroom by handling the project by yourself. If you consider yourself a pretty handy person, this might be the ideal route for you.
Some people are completely capable of retiling their own bathroom floor, for instance. In these circumstances, you'd only have to worry about a couple of costs: tools and materials.
If this idea interests you, here's what you should expect to pay for (if you don't already have them):
General Tools (level, measuring tape, hammer, towels, 5-gallon bucket, etc.): $100 – $300
Retiling Tools: (tile saw, grout, tile spacers, etc.): $150 – $400
Materials / Tile: $5 – $30 per square foot
The variance in tile cost will, of course, depend on the quality and style of tile you want to install. If this sounds like a renovation project you're up for, make sure you do your research. There are plenty of tutorials online that could help you accomplish this project with success.
From retiling to painting to redecorating, there are plenty of bathroom remodeling jobs you can tackle yourself. It's up to you to have a clear bathroom design plan in mind so you can make the right decisions.
How Much Might Bathroom Remodeling Labor Cost?
Let's say you don't feel like you're handy or capable enough to tackle a bathroom renovation alone. That's okay – that's where professionals in the home improvement industry can be of service.
As far as the cost of these remodeling services, you can expect them to vary. One factor that might create a difference in your labor costs has to do with the region you live in.
In high-population areas, the average labor costs are going to be pretty high. This includes the major coastal cities like Los Angeles and New York City, as examples. In contrast, more rural and small-town areas might have more affordable remodeling experts on hand.
Renovation contractors typically cost between the vast range of $35 per hour and up to $120 per hour. It's your responsibility to research the available remodeling contractors in your area and negotiate with them. In some cases, you might have to source your own materials and fixtures before even reaching out to them. 
Bath Remodel Cost by Feature
The chart below breaks down the cost of popular features considered when remodeling a bathroom:
| Bathroom Remodel Feature/Add-on | Average Cost (installation not included) |
| --- | --- |
| Add-ons | $20 – $100 each |
| Vents and fans | $60 – $160 |
| Lighting Fixtures | $90 – $440 |
| Countertops | $290 – $900 |
| Tubs, toilets, sinks | $166 – $1,400 |
| Replacement window | $190 – $800 |
| Plumbing/Piping | $260 – $1,500 |
| Shower (not installed) | $370 – $2,300 |
| Vanity | $300 – $1,200 |
Think About Possible Plumbing and Electrical Expenses
Additional bathroom remodeling expenses include paying for plumbing and/or electrical work. These costs, though, will only be incorporated for the more involved renovation projects. If you're just looking to retile or paint, you won't have to worry about paying plumbers or electricians to come in.
On the other hand, if you're hoping to get a brand new bathtub or shower, a plumber might need to be reached. You can expect their hourly rate to range from $40 to upwards of $250, depending on their expertise and reputation in the industry.
Let's say you want brand new light fixtures installed in your new bathroom design. Each installation might take several hours, depending on the original design of your home's blueprint. Reputable electricians can be known to charge up to $300 per hour, so prepare for this cost way in advance.
Even still, some people are still comfortable enough to tackle plumbing and electrical needs all on their own. It all depends on your level of experience with home repair and maintenance.
Remember that the top priority for this project should be the safety of yourself and others. If that means you need to pay the extra expense to hire experts, it'd be worthwhile.
Be Willing to Get Creative with Your Bathroom Remodel Ideas
As you start to think about what you might want your new bathroom to look like, don't be afraid to get creative. You'll be spending a lot of time in there, after all. Whether you're getting ready to meet your day or you're unwinding after a long one, your bathroom should be a place of serenity.
More importantly, though, it should be a space that suits you. So, how is your design aesthetic unique? What bathroom style elements have caught your eye in the past?
Some people like a classic, timeless feel for their interior design. These styles tend to incorporate neutral colors such as black, white, gray, and various shades of brown. You can expect clean, straight lines and perhaps some golden or silver accents.
Others, though, are more than happy to have a more quirky, colorful design in their bathroom. They might have a specific era's style in mind when they plan their bathrooms – such as the groovy 1970s or the spacey 1980s.
Whatever design style you're interested in, you can find plenty of elements to make it a reality. For more creative inspiration, consider researching interior design projects on Pinterest.
Don't Forget the Cost of Adding Decorative Items
Speaking of decorating your newly renovated bathroom, remember that it will likely add to your overall cost. It's true that comparing the cost of wall hangings or a new mirror will pale in comparison to investing in a brand new luxury clawfoot tub.
Still, you might as well leave some room in your bathroom remodeling budget for those final design touches. Decorative items could be covered by $100 – $600, for the most part.
Maybe you want to have some plants added to your final bathroom design space. Be sure to research what species thrive in these moist conditions without access to natural light. You'll find plenty that could be adorable additions.
For families, these decorative costs might include more storage space. Fortunately, there are plenty of vanity designs or cabinet spaces that make use of small spaces in the most organized ways. With enough research, you'll be sure to find what you need.
In fact, it's important to consider functionality as well as the overall aesthetic design. Does your mirror have a pill cabinet behind it that could prove very useful, as an example? Is there room above your toilet for more shelving and drawers to store various toiletry items?
Use Lighting and Color to Improve the Ambiance of Your Bathroom
Did you know that using different colors can impact the psychology of your guests? Knowing what emotion each color provokes might help you decide how to decorate your brand new bathroom. (Then, you can worry about how much those paint colors cost.)
Oranges and yellows create a bright, happy atmosphere. Cooler colors such as blue, purple, and green might contribute to a more calming effect in your bathroom space. Here's a more thorough guide to the meaning of colors before you decide your paint choices.
There are other interior design illusions to think about for your bathroom. For example, using larger mirrors in more than one location can create the feeling of a larger space than actually exists. In addition to the mirror above your new bathroom's vanity, consider incorporating a full-length mirror somewhere else (if there's room) to really open up the space.
Lighting can also play a big role in your new bathroom's ambiance. LED lights are more comforting indoors than the common iridescent ones.
If you install a light dimmer, the ambiance will be even more improved. Plus, if you play with the lighting and strategic mirror placements, you can make the room seem more spacious.
How Your Bathroom Design Can Affect Your Day-to-Day
It's understandable if you're wondering why you should even go through all of the trouble of the finer details of your bathroom remodeling project. The point is that you're investing a lot of energy and money into this home improvement effort already. You might as well be able to enjoy it as much as possible after it's done.
When we invest in our surroundings, we have the potential to feel more at peace with them. As already mentioned, you tend to start and finish your day by spending some amount of time in your bathroom.
Imagine if your new bathroom had all of the elements to make it the perfect relaxing space. The new organizational cabinets can help you find what you need quickly when you're getting ready in a rush. You can relax by dimming the lights and taking a jet-filled bath at the end of a tough day at work.
No matter what you look forward to most about your new bathroom design, you deserve to enjoy it. For more detailed guidance, learn about how interior design can affect your mental health.
Source Your Labor and Materials from Trusted Sources
By this point, you're starting to get a better idea of what you want your new bathroom design to look like. You're picturing the final product and preparing for the costs.
Before you buy any materials or hire any contractors, though, take note. It's important to do a little bit of research first.
Start by checking out a particular brand's website and online presence. Your potential source for new tile or your potential plumber should have a positive online reputation already. You can even check out online reviews from previous customers to see what kind of experience you can expect from a potential business.
In addition, don't be hesitant to stop working with a company if they don't provide top-quality customer service. This is your home we're talking about. If you're not comfortable with someone who might be working on it, look elsewhere.
Making smart purchasing and hiring decisions like this will help your bathroom renovation project feel like a good investment. Then, you can finally start to enjoy it.
Make the Most of Your Overall Bathroom Remodeling Cost
When you're ready to renovate your home's bathroom(s), you need to prepare a budget accordingly. That's why we took the time to compile the detailed guide you just read. While your overall bathroom remodeling cost may vary, you now have a general idea of what to expect.
It's up to you, then, to make the most of your financial investment in this project. That's why we encourage you to keep researching how to optimize your bathroom decor and functionality.
Do so by checking out the rest of our blog and website. We're here to help your living space become the dream home you've always wanted.
Bathroom Remodeling Cost FAQs
What is a realistic budget for a bathroom remodel?
Depending on what you want to have done and the size and features of your bathroom, a realistic budget could be anywhere from between $4,000 and $25000 for a bathroom remodel.
What is the most expensive part of a bathroom remodel?
While the most expensive line item for your remodel is likely to be "labor", here are the actual changes to the bathroom that will cost you the most: 1) Moving major plumbing fixtures 2) Moving walls 3) Tile work.
How much does it cost to remodel a 5×10 bathroom?
You should probably expect to pay between $3000 and $7000 to remodel a 5×10 bathroom.
Is remodeling a bathroom worth it?
Only you can decide if it's worth it to remodel your bathroom. However, if you are considering remodeling a bathroom before selling – don't. You will likely only get about 55% of your investment back out of it.
How much does a one-day bathroom remodel cost?
You can expect to shell out $4000 to $10000 for a one-day bathroom remodel. West Shore (featured on this page) guarantees they will complete your remodel in one day and they charge between $7,000 and $15,000+ for a basic bathroom renovation.