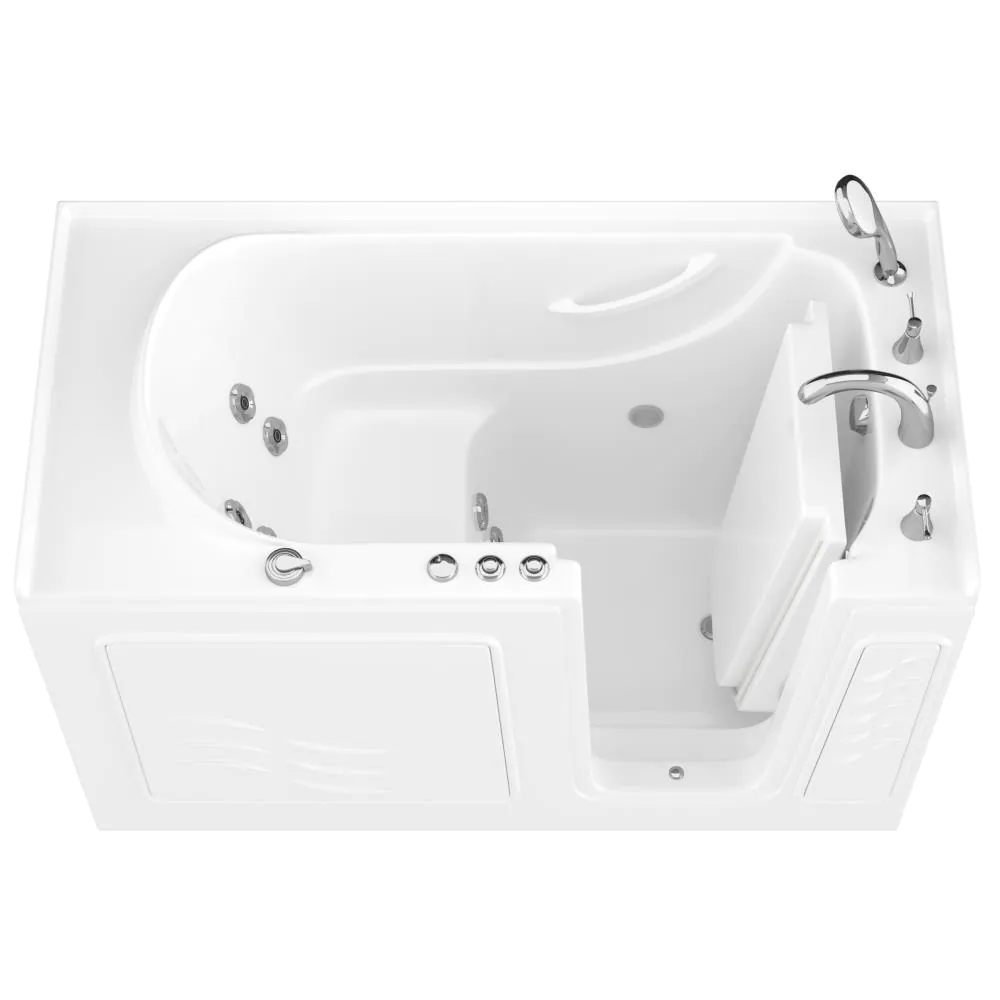 How Much Do Walk-In Tubs Cost?
Walk-in tubs are often essential for seniors of a certain age. Here's what walk-in tubs typically cost to install, and why you won't regret this purchase.
Did you know that one-third of seniors or adults 65 and older fall each year? And, most of these falls occur in the bathroom—nearly 80%. One way to prevent these accidents from happening is to install a walk-in tub.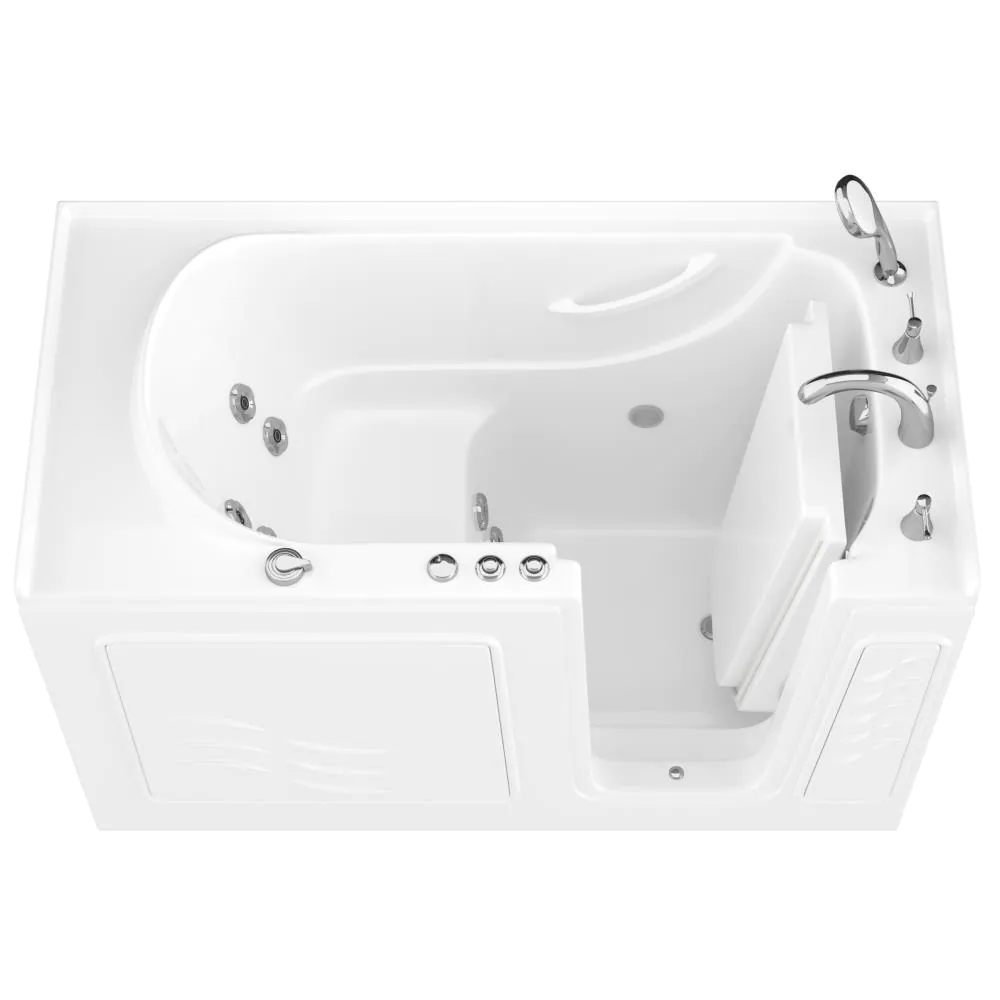 Walk-in tubs are similar to bathtubs but they feature a watertight door. This door helps you step into the tub without worrying about slipping and falling because it has a lower threshold and gives you a surface to grip. Then, much like a normal bathtub, the door closes and the tub fills with water.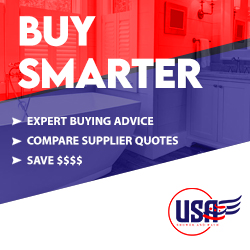 When you're done draining the bathwater, you can open the door and get out safely. But, like most things, the safety of a walk-in tub comes at a cost. If you're not sure how much a walk-in tub costs (including the tub itself and the installation), keep reading for an in-depth guide on cost, key features to look for, and more.
Pros and Cons of Walk-In Tubs
Before diving into the cost and installation of a walk-in tub, it's helpful to first understand some pros and cons of walk-in tubs. This can help you decide if a walk-in tub is right for you.
Pros
One of the main advantages of walk-in tubs is the level of safety they offer, particularly for seniors. Many seniors are limited in their mobility and a walk-in tub makes it easy to get in and out of the tub safely. There are also wheelchair-accessible tubs that have a swinging door.
Walk-in tub features like safety rails, non-skid floors, and an ADA-compliant seat make this bathing option especially attractive to seniors. These features can reduce the risk of falls or slips for older folks.
Not only that, but walk-in tubs can also come with hydrotherapy features. Hydrotherapy combines heat with gentle massagers for a spa-like bath experience. Whether you're recovering from an injury or are struggling with chronic pain from conditions like arthritis, these features can help release tight muscles and soothe pressure point pain.
Cons
An obvious con to a walk-in bathtub is the cost. There's no way around it—you're going to have to spend some money to enjoy the benefits these tubs offer. In addition, because walk-in tubs have a door you can't drain or fill the tub with the door open.
What does this mean exactly? You'll have to sit in the tub while it fills and while it drains before you can safely exit. This process can take up to 15 minutes. 
Another con to walk-in tubs is temperature. Usually, when you're filling a bathtub you have ample time to adjust the temperature before you get into the water. But since you have to sit in the tub while it fills, you don't have much time to adjust the temperature.
Because of this, it's helpful to find a walk-in tub that comes with safety features like scald prevention valves to make sure the temperature doesn't reach dangerously warm levels.
How Much Do Walk-In Tubs Cost?
The cost of a walk-in tub depends on both the tub itself as well as the bathtub installation. Many factors can also affect the cost.
Walk-In Tub
Without considering the exact type of tub, a standard walk-in tub will typically cost you $2,000 to $5,000. Extra features like jets or wheelchair accessibility can cost you a few thousand more.
Wheelchair-accessible walk-in tubs can cost upwards of $10,000, but for more basic ones you can expect to pay at least $3,000.
Walk-In Tub Installation
Now, you have to add the cost of installation to the price of the walk-in tub itself. You can expect to pay at least another $4,000 to upwards of $8,000-$10,000 for the installation of the tub.
Factors that Affect the Cost
While there are basic statistics on how much a walk-in tub costs and how much it costs to install, you also need to keep in mind that there are a variety of factors that can affect the cost.
The size of the tub and the material it's made out of can affect the cost. If the tub is especially large and requires further bathroom remodeling, then that can drive up the cost. More expensive materials like acrylic can also increase the cost, while more affordable materials like steel and fiberglass won't cost you quite as much.
Additionally, you might have to face some plumbing and electrical charges upon installation. You also may have to purchase a new water heater along with your walk-in tub since a walk-in tub is deeper than standard bathtubs and demands more water.
Types of Walk-In Tubs
Let's take a look at the many different kinds of walk-in tubs so you can determine which is right for you.
Soaker
Soaker tubs are exactly what they sound like. Designed for maximum soaking, these tubs are taller which means they can hold more water. That way, you're able to be completely submerged.
This is a go-to style as far as walk-in tubs go and a great option if you want to enjoy hydrotherapy or massage features. Soaker tubs typically don't cost much more than standard walk-in tubs with the most expensive options ranging around $7,000.
Bariatric
Bariatric tubs are made for larger individuals. Longer and wider than other tubs, this type is made to accommodate those who weigh between 300 and 600 pounds. Most walk-in tubs have a weight capacity of around 300 pounds which may not be enough for larger individuals in need of a walk-in tub.
Because of their larger size, bariatric tubs cost more. They'll run you about $4,000 to upwards of $11,000.
Tub and Shower Combo
If you're interested in a walk-in tub that doubles as a shower, you're not alone. This type is popular for its versatility. This type looks like most other typical tub and shower combos but it's got that deeper base and lower threshold for safe entry.
This option costs around $3,000 to $8,000. It works nicely for cases where multiple people are using the bathroom and want other options for bathing.
A walk-in shower is typically much less expensive than a walk-in tub. Walk-in showers are often easier to install since they take up less space and don't require quite as much remodeling work.
You can expect to pay anywhere from $800 to a few thousand for a walk-in shower while walk-in tubs start at a few thousand.
Wheelchair-Accessible Tub
A wheelchair-accessible tub is exactly what it sounds like. An especially great option for seniors who see themselves living in their home for the rest of their life, this type offer a wider entryway which helps a standard wheelchair easily meet the bathtub.
This type also typically features great safety mechanisms like grab bars, anti-slip flooring, and non-skid floors.
Lay-Down Tub
Lay-down tubs are made for, well, laying down. This means they are a bit longer and can come with a detachable seat.
However, because of their longer size, this type of tub might not fit in your current bathroom set-up. Oftentimes, those who wish to install a lay-down tub have to pay a bit extra for any remodeling that has to be done to accommodate the larger size.
Hydro Massage Tub
Hydro Massage tubs are similar to standard walk-in tubs with the added massage jet feature. These tubs are great for hydrotherapy because they feature jets that can improve circulation, soothe sore muscles, and target pain points of the body.
The cost of this type is a bit higher since it comes with extra features.
Most Important Features for Walk-In Tubs
If you're curious about the most important features to consider for a walk-in tub, this section's for you.
Features like a handheld shower wand can be great for making bathing easier. Massage jets can help create more of a spa-like experience and also offer hydrotherapy benefits. 
A major safety feature to consider is grab bars. Grab bars come in a set and offer a strong, sturdy surface to grip onto when getting in and out of the tub. If you're impatient and don't want to wait for the bathwater to fill and drain, investing in a feature like quick-drain technology can significantly decrease your wait time.
If you're all about relaxation, features like a headrest and aromatherapy can elevate your bathing experience. Headrests make your bath time more comfortable by offering a padded surface to lean back on while aromatherapy can release comforting scents like lavender and peppermint.
Additionally, self-cleaning features can make the maintenance process for a walk-in tub a breeze. Keeping a walk-in tub clean isn't always easy, especially if it's getting regular use. It can also be difficult to clean these tubs and for seniors who already have issues getting in and out of the tub, it's simply not realistic to bend over and clean the tub.
Lastly, features like custom seats or benches can be nice for creating a more personalized tub.
Best Features for Seniors
For seniors looking to invest in a walk-in tub, here are the top features to consider.
Grab bars make for a safer experience overall which is helpful for seniors who need assistance when getting in and out of the tub. A lower entry step can also benefit seniors when entering and exiting the tub as it reduces your risk of falling or slipping.
And, a water-tight sealed door can help prevent your bathroom from flooding or from releasing excess water onto your bathroom floor. This is especially important for seniors who are at a greater risk of falling when entering and exiting the tub.
Best Walk-In Tub Brands
Some of the most highly regarded walk-in tub brands include Kohler, Boca, and Independent Home. Boca is known for offering tubs with fast-fill and quick-drain features which is a nice bonus. Boca tubs also come with a variety of hydrotherapy features.
Independent Home tubs come with lifetime warranties and built-in grab bars and non-slip surfaces. An especially good option for seniors, Independent Home also offers customizations for tubs based on your bathroom and personal preferences.
Kohler offers walk-in tubs with lower thresholds for safety and easy-to-grip handrails. These tubs also come with a variety of add-on features, allowing you to personalize the tub for your needs.
Another great walk-in tub brand is American Standard. If you're looking for a luxury spa experience, this is the brand to go with. They offer several massage features and lifetime warranties.
If hydrotherapy is your number one priority, consider a brand like Ella's Bubbles. As its name suggests, this brand offers walk-in tubs with massage jets and spa-like features. Ella's Bubbles uses whirlpool tubs for maximum relaxation.
Are Walk-In Bathtubs Worth the Money?
Simply put, walk-in bathtubs are worth the money if you plan on getting regular use out of them. For seniors looking for a safer, more reliable solution to bathing, a walk-in tub is a great option. Or, if you're wanting to elevate your bathroom and double its value, a walk-in tub is a safe bet.
Either way, walk-in tubs offer a variety of benefits that can suit many types of homeowners. Be sure to weigh the pros and cons before you invest, but chances are you'll find that a walk-in tub is well worth the money.
Install a Walk-In Tub Today!
Hopefully, you now have a good understanding of everything that goes into the cost of a walk-in tub. Remember that factors like extra features, materials used, and the size and type of tub can all affect the cost and installation.
If you're ready to purchase and install a walk-in tub, contact USA Shower and Bath today for a free quote! They're experts in installation for showers and tubs as well as bathroom remodeling so they're a safe bet for all things bathroom-related.