How Much Does 5×10 Bathroom Remodeling Cost?
The national average cost to remodel a 5 x 10 bathroom will fall between $4206-$6823. The below guide will help you calculate the price to remodel your small bathroom.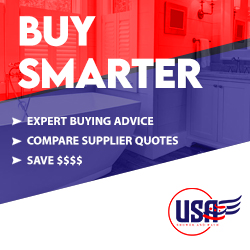 In 2022, the most popular home remodeling projects are bathrooms. We spend a lot of time in our bathrooms getting for our busy days and doing our nightly skincare routine.
If you're getting tired of your bathroom and looking for a change, you've come to the right place. We are going to tell you everything you need to know about how much it cost for 5 x 10 bathroom remodeling. Request quotes from reliable remodelers in your area or read on so you can start preparing your budget for your dream bathroom.
What Costs The Most In a 5×10 Bathroom Remodel?
When you're remodeling your bathroom, there are a few things that are more expensive than everything else. Moving the fixture is going to be the most costly.
If you have the toilet or sink moved, a professional will have to connect the new features to the sewer line. This is not an easy task and is expensive. The pipes may need to be relocated depending on the setup and foundation.
The tile work is next on the list of more costly changes. Tile is going to be more expensive than other materials; however, you can find some for an affordable price.
It's labor that's the most pricey part. The amount of tile you're having installed will also affect the price. If you want an accent wall or a different backsplash, you'll see the bill increase. Below is a list of common features and costs:
| Feature to Remodel in 5×10 Bathroom | Estimated Cost (excludes installation) |
| --- | --- |
| Toilet | $255 |
| Vents and Fans | $160 |
| Lighting Fixtures | $300 |
| Countertop | $489 |
| Sinks | $475 |
| Entry Door | $350 |
| Replacement Window(s) | $500 |
| Shower | $800 |
| Vanity | $558 |
What Is a Reasonable Budget to Remodel a 5 x 10 Bathroom?
When you're creating your budget, it can be hard to know what to include and how much to set aside for materials and labor. A 5×10 bathroom upgrade is going to cost between $5,000 and $10,000. You can dictate the price by the bathroom features that you choose.
If you've wanted to do a 5 x 10 bathroom remodeling project, but don't want to break the bank, there are ways to do it.
5 x 10 Bathroom Remodel Labor Cost
The cost of labor is going to be significantly more expensive than materials. Paying for a professional to do the work, is an investment that is with money. Bathroom remodels are not an easy project and you don't try to DIY them.
You'll likely hire a contractor who will then hire subcontractors to do the work. The cost of labor depends on the project.
A design will charge between $50 and $100 an hour. They can be super helpful when it comes to creating the plan. If you're not a professional, you may not be able to see the big picture right away, but a design will.
Tile installers typically charge anywhere from $5 to $25 per square foot. A carpenter is going to charge about $70 an hour.
Since you're remodeling your bathroom, you'll be moving the electrical around. Expect to pay between $40 and $120 per hour. A plumber charges a little more and will cost up to $130 an hour.
5 x 10 Bathroom Remodel Material Cost
The cost of materials is going to vary based on which products you get. You can save money on your renovation by choosing cheaper materials.
Tile: $3-$5 per square foot
Shower and tub: $225-$1,300
Countertops with sinks: $190 and $1,200
Cabinets: up to $700
Toilets: average cost $540
Lighting: $35 to $130
Features That May Affect Cost
Anything that you change, upgrade, or replace is going to cost you money. The question is how much. Below are a few features that add to the cost significantly and some you may have forgotten to include in your budget.
Flooring
Upgrading your flooring can make a huge difference when it comes to the feel of your bathroom. If you're remodeling your bathroom, you may not have a choice but to replace the flooring.
When you're moving items around such as the vanity and toilet, you'll need to fill the places where they were sitting with flooring. It can be hard to find the exact tile if you live in an older home, so replacing is probably your best bet.
Windows
Windows may not have crossed your mind, but when you're in your 5×10 bathroom you'll want to get some natural light. You also probably don't want your neighbors to be able to see into your bathroom.
You'll need to decide which types of windows you want. There are some with extra film for privacy and you may want one with extra insulation.
You can expect to pay between $100 and $1,200. There may not be many windows in your bathroom so you won't have to budget too much for those.
Lighting/Electrical
If you're moving the electrical around you'll likely want to get new fixtures. Lighting fixtures can be expensive or affordable is all dependent on your budget and how much you want to spend.
There are so many selections and you'll have to decide where you want your lighting placed. The electrical work will need to be done by a professional and will be the most costly part when it comes to lighting.
Additional Costs
You don't want to get blindsided by extra fees at the end of your project. However, there are some additional costs that may not be included in your initial quote.
Is There Water Damage?
You may not know you have water damage in your bathroom until renovations start. If it's found during the process, it will have to be fixed. You can't leave your 5×10 bathroom with damage even though it could be costly to repair.
Even if you don't think there's water damage, give yourself a little room in your budget just in case. Better to be prepared.
Are Permits Needed?
You may need a permit to start construction on your bathroom. They usually aren't more than $100 and you'll know before the project starts if they are needed.
If you live in an HOA community or if you live in a condominium or apartment, you'll need to check the HOA guidelines. While there shouldn't be an issue, some areas have strict rules.
You may not be able to do construction past a certain time or on the weekends. It never hurts to confirm the regulations beforehand so you don't get hit with a fine.
Where Is The Bathroom Located?
If your bathroom is on the first level, it will be a little cheaper than if it's on the second or third story. Moving materials in and out is a big part of the job and will take up more time if the bathroom isn't on the first floor.
Removing Old Materials
Many companies and contractors will remove leftover material and debris; however, some may not. Some may ask for an extra fee for removing supplies and unwanted materials.
Things To Know
Patience is key during the 5 x 10 bathroom remodeling process. A complete remodel typically takes about a month. However, there are a lot of moving parts and many depend on each other. If one thing is missing or delayed, it could slow, don't the whole project.
Before starting the remodel talk to your contractor about supply backups and shortages. There are some things that will be out of his control, but it never hurts to ask, the last thing you want is for the bathroom to sit half-completed for weeks like a part comes in.
A 5×10 bathroom remodel is expected to increase your home's value. This can be a great benefit if you place to sell in the future.
A good contractor can make all the difference. You'll want someone who has great communication skills and is a reputable businessman. Be sure to look at online, receive and ask your friends and family for recommendations.
What Is the Difference Between a Bathroom Renovation and a Bathroom Remodel?
The words renovation and remodel are often used interchangeably. However, they don't mean the same thing. A renovation would mean you are restoring your bathroom to its previous state.
For example, updating the tile, painting the walls, and upgrading the light fixtures. When you're doing a renovation, the layout of the bathroom stays the same. Only cosmetic items can be changed.
A bathroom remodel means the structure is being changed or altered. Typically, a remodel involves electrical and plumbing construction.
You may completely change the layout during a remodel instead of changing the colors and fixtures. You can even knock out a wall and combine your bathroom and closet during a remodel.
Your 5 x 10 Bathroom Remodeling Project
If you've lived in the same house for years, you may be bored with your 5×10 bathroom. That means it's time for a remodeling project.
It can be overwhelming to know where to start and setting up your budget takes time. Once you're standing in your new luxury bathroom, it'll all be worth it.
If you're ready to start your 5 x 10 bathroom remodeling project, let's get started today! We have worked with hundreds of homeowners to help them build their dream bathrooms and we can help you too. We have a great team of professionals ready to answer any questions you may have, just contact us here.