How Much Does 5×10 Bathroom Remodeling Cost?
The national average cost to remodel a 5 x 10 bathroom will fall between $4206-$6823. The below guide will help you calculate the price to remodel your small bathroom.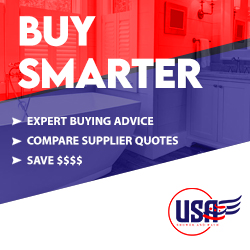 In this guide you'll learn more about the average cost to install a new bathtub (or remove an old tub), labor, cost, in various options, such as standard tubs versus fiberglass tubs or a walk-in tub.
If you're getting tired of your bathroom and looking for a change, you've come to the right place. We are going to tell you everything you need to know about how much it cost for 5 x 10 bathroom remodeling. Request quotes from reliable remodelers in your area or read on so you can start preparing your budget for your dream bathroom.
What Costs The Most In a 5×10 Bathroom Remodel?
When you're remodeling your bathroom, there are a few things that are more expensive than everything else. Moving the fixture is going to be the most costly.
If you have the toilet or sink moved, a professional will have to connect the new features to the sewer line. This is not an easy task and is expensive. The pipes may need to be relocated depending on the setup and foundation.
The tile work is next on the list of more costly changes. Tile is going to be more expensive than other materials; however, you can find some for an affordable price.
It's labor that's the most pricey part. The amount of tile you're having installed will also affect the price. If you want an accent wall or a different backsplash, you'll see the bill increase. Below is a list of common features and costs:
| Feature to Remodel in 5×10 Bathroom | Estimated Cost (excludes installation) |
| --- | --- |
| Toilet | $255 |
| Vents and Fans | $160 |
| Lighting Fixtures | $300 |
| Countertop | $489 |
| Sinks | $475 |
| Entry Door | $350 |
| Replacement Window(s) | $500 |
| Shower | $800 |
| Vanity | $558 |
What Is a Reasonable Budget to Remodel a 5 x 10 Bathroom?
Remodeling a bathroom can vary significantly in cost based on numerous factors, including the type of fixtures and materials used, as well as labor costs. A typical 5 x 10 bathroom remodeling project can range anywhere from $6,000 to $20,000, depending on the quality of materials, fixtures, and the local labor cost.
When it comes to the bathtub, there are many options available that can significantly impact the total cost. For example, freestanding tubs have become quite popular due to their aesthetic appeal and design versatility. These can range anywhere from $500 for basic acrylic tubs, to over $3,000 for high-end models.
Walk-in tubs are another type of tub that you might consider, especially if accessibility and safety are a concern. These tubs are designed for ease of use, particularly for those with mobility issues, and can cost between $2,000 and $5,000, not including installation costs.
Jetted tubs and whirlpool tubs, on the other hand, offer the added luxury of water jets for a spa-like experience. These tubs can cost anywhere from $1,000 to $3,500, again not including installation costs.
Fiberglass bathtubs are another option to consider. They are generally less expensive than acrylic tubs, with a price range from $300 to $500. However, they may not have the same lifespan or aesthetic appeal as other options.
Replacing an old bath tub will also involve labor costs. The installation process can be relatively complex, especially if any plumbing adjustments are necessary. Depending on the complexity of the job, labor costs can range from $600 to $1,500.
In addition to the cost of the tub itself, don't forget to factor in the price of other materials and fixtures, such as tile, faucets, showerheads, and lighting, as well as any necessary plumbing and electrical work. Labor costs will also be a significant part of the total cost, so it's essential to get an accurate quote before starting the project.
Keep in mind that these are just rough estimates. The actual cost of your bathroom remodeling project will depend on your specific choices, the local labor and material costs, and any unexpected issues that might come up during the renovation process. To get a more accurate estimate, it's a good idea to speak with a few different contractors and request quotes for your specific project.
5 x 10 Bathroom Remodel Labor Cost
Labor costs is going to be significantly more expensive than materials. Paying for a professional to do the work, is an investment that is with money. Bathroom remodels are not an easy project and you don't try to DIY them. 
You'll likely hire a contractor who will then hire subcontractors to do the work. The cost of labor depends on the project.
A design will charge between $50 and $100 an hour. They can be super helpful when it comes to creating the plan. If you're not a professional, you may not be able to see the big picture right away, but a design will.
Tile installers typically charge anywhere from $5 to $25 per square foot. A carpenter is going to charge about $70 an hour.
Since you're remodeling your bathroom, you'll be moving the electrical around. Expect to pay between $40 and $120 per hour. A plumber charges a little more and will cost up to $130 an hour.
5 x 10 Bathroom Remodel Material Cost
The cost of materials is going to vary based on which products you get. You can save money on your renovation by choosing cheaper materials.
Tile: $3-$5 per square foot
Shower and tub: $225-$1,300
Countertops with sinks: $190 and $1,200
Cabinets: up to $700
Toilets: average cost $540
Lighting: $35 to $130
Features That May Affect Cost To Remodel 5×10 Bathroom
When planning a bathroom remodel, understanding the factors that influence costs can help you make informed decisions. This is particularly true for remodeling a 5×10 bathroom. Several elements can drastically affect the overall cost, including the type of tub you choose, whether you're replacing an old bathtub, and the type of contractor you hire. Here's a detailed breakdown of the factors to consider:
1. Type of Tub
One of the most significant factors that can affect the cost of a bathroom remodel is the type of tub you opt for. Here are some common types:
Walk-in Tub: These are ideal for those with mobility issues or seniors. However, they typically cost more than traditional tubs due to the extra features such as doors and safety measures.
Freestanding Tubs: Freestanding tubs make a style statement but can increase the cost of a remodel due to the need for additional plumbing.
Jetted Tub and Whirlpool Tub: These tubs offer a spa-like experience with hydrotherapy benefits, but they can significantly increase the bathtub replacement cost because of their sophisticated technology and installation requirements.
2. Bathtub Replacement Cost
Replacing an old bathtub or existing tub can add to the overall remodeling cost. The bathtub replacement cost depends on the type of tub you choose (as mentioned above), but also the labor involved in removing the old tub and installing the new one.
3. Contractor Selection
Choosing a reliable general contractor is crucial for a successful remodel. While it might be tempting to go with a cheaper option, remember that quality work often comes at a higher price. It's also important to note that contractors usually charge by the square foot, so the size of your bathroom will impact the overall cost.
4. Additional Factors
While the type of tub and contractor selection are significant factors, other elements can affect the cost of remodeling a 5×10 bathroom. Here are a few to consider:
Plumbing Changes: If your remodel involves moving or changing the existing plumbing, costs can rise substantially.
Quality of Materials: Higher quality materials will increase the cost but can provide a more luxurious feel and longer lifespan.
Permit Costs: Depending on your location, you may need permits for remodeling which can add to the overall expense.
By understanding these cost-influencing factors, you can plan your 5×10 bathroom remodel effectively, choosing the best options for your budget and style preferences. Remember to weigh the benefits and downsides of each decision, and don't be afraid to invest in the features that matter most to you.
Unexpected Costs
You don't want to get blindsided by extra fees at the end of your project. However, there are some additional costs that may not be included in your initial quote.
Is There Water Damage?
You may not know you have water damage in your bathroom until renovations start. If it's found during the process, it will have to be fixed. You can't leave your 5×10 bathroom with damage even though it could be costly to repair.
Even if you don't think there's water damage, give yourself a little room in your budget just in case. Better to be prepared.
Are Permits Needed?
You may need a permit to start construction on your bathroom. They usually aren't more than $100 and you'll know before the project starts if they are needed.
If you live in an HOA community or if you live in a condominium or apartment, you'll need to check the HOA guidelines. While there shouldn't be an issue, some areas have strict rules.
You may not be able to do construction past a certain time or on the weekends. It never hurts to confirm the regulations beforehand so you don't get hit with a fine.
Where Is The Bathroom Located?
If your bathroom is on the first level, it will be a little cheaper than if it's on the second or third story. Moving materials in and out is a big part of the job and will take up more time if the bathroom isn't on the first floor.
Removing Old Materials
Many companies and contractors will remove leftover material and debris; however, some may not. Some may ask for an extra fee for removing supplies and unwanted materials.
Things To Know
Patience is key during the 5 x 10 bathroom remodeling process. A complete remodel typically takes about a month. However, there are a lot of moving parts and many depend on each other. If one thing is missing or delayed, it could slow, don't the whole project.
Before starting the remodel talk to your contractor about supply backups and shortages. There are some things that will be out of his control, but it never hurts to ask, the last thing you want is for the bathroom to sit half-completed for weeks like a part comes in.
A 5×10 bathroom remodel is expected to increase your home's value. This can be a great benefit if you place to sell in the future.
A good contractor can make all the difference. You'll want someone who has great communication skills and is a reputable businessman. Be sure to look at online, receive and ask your friends and family for recommendations.
What Is the Difference Between a Bathroom Renovation and a Bathroom Remodel?
The words renovation and remodel are often used interchangeably. However, they don't mean the same thing. A renovation would mean you are restoring your bathroom to its previous state.
For example, updating the tile, painting the walls, and upgrading the light fixtures. When you're doing a renovation, the layout of the bathroom stays the same. Only cosmetic items can be changed.
A bathroom remodel means the structure is being changed or altered. Typically, a remodel involves electrical and plumbing construction.
You may completely change the layout during a remodel instead of changing the colors and fixtures. You can even knock out a wall and combine your bathroom and closet during a remodel.
Discovering the Variety of Bathtubs and Showers: From Classics to Cutting-Edge
When it comes to bathroom design, the possibilities are nearly endless. Among these possibilities, the tub or shower you select can significantly influence the overall look and functionality of your space. This article will explore the different types of bathtubs and showers available today, from the standard bathtub to high-tech models.
The Classic Standard Bathtub
The standard bathtub is the most common and typically the least expensive option for homeowners. Generally, these are rectangular in shape and made of acrylic or fiberglass, two popular materials for their cost-effectiveness and durability. A standard bathtub is often designed to fit against three bathroom walls with an integrated tub surround or tile work around it.
Clawfoot Tub: A Touch of Nostalgia
The clawfoot tub harkens back to a more elegant, slower-paced era. This type of bathtub stands freely on the bathroom floor, lifted from the ground by four ornate feet—hence the name. Traditionally made of cast iron and lined with porcelain, the modern versions of clawfoot tubs come in a variety of materials like acrylic, which is lighter and easier to maintain. The freestanding design of clawfoot tubs makes them the centerpiece of any bathroom, offering a luxurious, vintage aesthetic.
The Versatile Tub Shower Combo
The tub shower combo, as its name implies, combines a bathtub and shower in a single unit. This is an excellent solution for those looking for versatility and functionality in small spaces. Typically, the tub is the same as a standard bathtub, with a shower head installed above. This combination is especially convenient for families with young children or those who prefer the option to soak or shower.
High-Tech Models: Bringing Innovation to Your Bathroom
For technology enthusiasts, high-tech models offer an elevated bathing experience. These types of tubs and showers include a wide range of features like digital temperature control, massage jets, chromatherapy lighting, and even built-in speakers for music. A popular high-tech model is the whirlpool tub, equipped with water jets for a spa-like experience. Another high-tech option is the steam shower, transforming your bathroom into a personal sauna. While these models come with a higher price tag, they can turn your bathroom into a wellness retreat.
The Acrylic Bathtub: Affordable and Durable
Acrylic bathtubs are a popular choice for their affordability, durability, and versatility in design. This material is lightweight, making installation easier, and retains heat well, ensuring a warm bath. The smooth, nonporous surface of an acrylic bathtub is also easy to clean and resistant to fading, scratches, and cracks. With various shapes and sizes available, you can find an acrylic bathtub to fit any bathroom layout or design preference.
The Right Choice for Your Space
Choosing the right tub or shower depends on various factors like the size of your bathroom, your budget, and your personal preferences. The standard bathtub or acrylic bathtub can be an excellent choice for those on a budget or needing a functional, straightforward design. The clawfoot tub offers a touch of elegance and nostalgia, while a tub shower combo provides flexibility. For those seeking a luxurious experience, high-tech models can transform your daily routine into an indulgence.
Understanding the different types of bathtubs and showers can help you make an informed decision for your bathroom remodel or build. Whether you're drawn to the practicality of a standard bathtub, the vintage charm of a clawfoot tub, or the innovative features of high-tech models, there's a perfect choice for every home and budget.
Trending in Bathroom Remodeling: From Standard Tubs to Ceramic Tiles
As of 2023, bathroom remodeling is seeing an exciting influx of new trends, techniques, and styles that blend functionality and aesthetics. In this article, we'll explore the latest trends in bathroom remodeling, with particular emphasis on components such as the standard tub, tub surround, different types of bathtubs, and more.
The Evolution of Bathtubs
While the standard tub has been a staple in bathroom remodeling for decades, new trends are leaning towards specialized types of bathtubs. Steel tubs are gaining popularity due to their robust nature and sleek, modern design. These types of tubs provide longevity and durability that surpass the traditional acrylic and fiberglass options. Steel tubs, in conjunction with a stunning tub surround, can create a luxurious bathing space that is both comfortable and stylish.
The Art of Bathtub Removal
Bathtub removal is another aspect of bathroom remodeling that is witnessing a surge in demand. Homeowners are increasingly opting to replace their existing tubs with more contemporary, spa-like fixtures. The removal process, while seemingly daunting, has been streamlined with modern tools and techniques, minimizing the potential for damage and ensuring a clean slate for the installation of new fixtures.
New Faucets: A Blend of Functionality and Design
The choice of new faucets is a critical part of any bathroom remodeling project. Today's market offers an array of stylish faucets that incorporate innovative features such as touchless operation and water-saving technology. The trend in faucets is a blend of aesthetics and functionality, with designs that complement the overall theme of the bathroom while providing efficient service.
Shower Combination: The Best of Both Worlds
The shower combination trend is an exciting development in bathroom remodeling. More homeowners are choosing to incorporate a shower-tub combo in their bathrooms. This design allows for the relaxation of a soak in the tub and the efficiency of a shower, particularly appealing for smaller bathrooms where space is at a premium.
Ceramic Tile: An Evergreen Choice
Lastly, ceramic tile remains a popular choice for bathroom remodeling. Ceramic tile is celebrated for its durability, wide range of designs, and easy maintenance. From the bathroom floor to the walls, ceramic tiles offer versatility that is hard to match. The trend sees a move towards larger format tiles and neutral color palettes, with accents in bolder hues for a touch of modern charm.
In conclusion, bathroom remodeling trends in 2023 are about combining style and practicality. From steel tubs to ceramic tiles, every aspect of the bathroom is being innovatively redesigned to enhance the user experience while adding value to the home. So, whether you're planning a complete bathroom makeover or just a minor upgrade, these trends can serve as your guide.
Your 5 x 10 Bathroom Remodeling Project
If you've lived in the same house for years, you may be bored with your 5×10 bathroom. That means it's time for a remodeling project.
It can be overwhelming to know where to start and setting up your budget takes time. Once you're standing in your new luxury bathroom, it'll all be worth it.
If you're ready to start your 5 x 10 bathroom remodeling project, let's get started today! We have worked with hundreds of homeowners to help them build their dream bathrooms and we can help you too. We have a great team of professionals ready to answer any questions you may have, just contact us here.