Modern Bathroom Remodel Prices
You can expect to pay a little more for high-end materials and luxurious finishes, but there are plenty of affordable options that will still give your bathroom a modern look. You can also save money by doing some of the work yourself, but be sure to get estimates from professional contractors before you start any major renovations.
What are Some Popular Modern Bathroom Designs?
When remodeling your bathroom, it's important to choose a design that matches your style and needs. There are many different modern designs to choose from, and each has its own advantages. Here are a few of the most popular modern bathroom designs:
Contemporary
Contemporary bathroom designs are sleek and minimalist, with clean lines and simple shapes. They often use bold colors and geometric patterns and can be quite dramatic.
Transitional
Transitional bathroom designs combine elements of traditional and contemporary styles, creating a more timeless look.
They typically use neutral colors and classic shapes, with a few more unique features to add interest.
Vintage
Vintage bathroom designs evoke the look and feel of bygone eras, with intricate details and ornate finishes. They can be quite charming but may require more upkeep than other designs.
Industrial
Industrial bathroom designs are inspired by factories and warehouses, with exposed pipes and metal finishes.
They can be quite masculine, but can also be softened up with warmer colors and materials.
Modern Classic
Modern classic bathroom designs are a blend of traditional and modern styles, with elegant curves and timeless finishes.
They offer a sophisticated look that is still current year after year.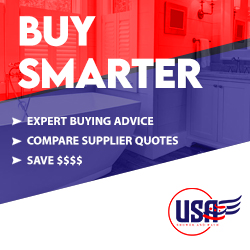 How Much Does a Modern Bathroom Remodel Cost?
The cost of a modern bathroom remodel can vary greatly depending on the size of the room, the materials used, and the level of customization required. However, you can expect to pay at least $2,000 for a basic renovation, with prices increasing as you add more features or upscale the materials.
The national average bathroom size is anywhere from 40-100 square feet, so if you have a larger space to work with, your costs will be higher.
It's also important to factor in the cost of labor if you are hiring professionals for the job. Homeowners typically spend between $30 and $100 per hour on labor depending on the complexity of the project.
The total cost of a modern bathroom remodel can range from $3,000 to $20,000 or more.
No matter how much you are spending, it's important to remember that quality materials and craftsmanship will always be worth the investment. By taking the time to find the right contractor and materials for your project, you can have a beautiful and durable modern bathroom that will last for years.
What Materials and Finishes are Used in Modern Bathrooms?
Materials and finishes are a big part of any bathroom remodel, and there are many options to choose from when designing a modern bathroom. Some of the most popular materials and finishes include:
Tile
Tile is a popular choice for bathrooms because it is durable, easy to clean, and comes in a variety of colors and styles. It can be expensive to install, but it will last for many years with minimal upkeep. Tile costs can range from $2 to $50 per square foot.
Stone
Stone is another popular material for bathrooms, especially in higher-end renovations. It is durable and can be stained or polished to create a variety of looks. Stone can be expensive to install, but it will last forever with proper care. Depending on the type of stone you choose, prices can range from $6 to over $100 per square
Laminate
Laminate is a budget-friendly option that offers a modern look without breaking the bank. It is available in a variety of colors and styles and can be installed by DIYers with minimal experience. Laminate is not as durable as other materials, so it may not be the best choice for high-traffic areas. The cost of laminate is typically around $2 to $7 per square foot.
Wood
Wood is a beautiful material that can be used in both traditional and modern bathroom designs. It is durable but requires more maintenance than other materials, and can be expensive to install. On average wood for bathrooms costs around $4 to $12 per square foot.
Metals
Metals are often used in industrial-inspired bathroom designs, and come in a variety of finishes such as chrome, nickel, and brass. They are often paired with concrete or stone for a sleek look. Metals can be expensive but they are one of the most durable materials available. You can expect to pay around $4 to $15 per square foot for metal materials.
Glass
Glass is often seen in modern bathrooms, and can be used for everything from shower doors to countertops. It allows light to pass through and can create a beautiful look when paired with other materials. Glass is an expensive option but is very durable if properly installed. On average glass will cost around $5 to $20 per square foot.
No matter what materials and finishes you choose for your modern bathroom, it's important to make sure they are properly installed so that they last. Quality workmanship is essential in any remodel and can be the difference between a long-lasting renovation and one that needs repairs down the line.
What are Some Common Modern Bathroom Upgrades?
There are a number of common bathroom upgrades that can add style and function to a modern bathroom. Some of the most popular upgrades include:
Adding a Glass Shower Door
A glass shower door is a popular upgrade for bathrooms as it adds visual interest and allows light to pass through. It is also easy to clean and can be paired with a variety of materials such as tile or stone.
Having a glass shower door installed will usually cost between $500 and $1,000.
Installing a Modern Vanity
Vanity sinks have come a long way in recent years and there are now many options available for modern bathrooms.
A vanity sink can add storage and function to a bathroom and is a great way to show off your personal style.
Vanity sinks generally cost around $500 to $2,000 depending on the style you choose.
Upgrading the Faucet
A new faucet is an easy way to upgrade your bathroom without spending a lot of money.
There are many stylish and functional faucets available on the market today, so it's easy to find one that matches your style.
A new faucet for your bathroom renovation project will usually cost around $200 to $400.
Adding Heated Floors
Heated floors are a luxurious addition to any bathroom and can be especially beneficial in colder climates.
They are easy to install and can be custom-made to fit any space.
Heated floors can be an affordable luxury upgrade if you shop around and compare quotes. Heated floors cost around $7 to $15 per square foot.
Tips for Choosing the Right Contractor for Your Modern Bathroom Remodel
When it comes to choosing a contractor for your bathroom remodels, it's important to do your research. There are many contractors out there, so it's important to find one that is qualified and experienced in bathroom renovations.
Here are a few tips for finding the right contractor for your project:
Look for Qualifications
When interviewing contractors, be sure to ask about their qualifications. Make sure they have experience with modern bathroom renovations and that they are familiar with the latest trends and materials.
Check References
It's also a good idea to check references and read reviews from past clients. This will give you a better idea of what to expect from the contractor and help you decide if they are the right fit for your project.
Get Quotes
Once you've narrowed down your choices, get quotes from each of the contractors. This will help you compare prices and find the best deal. It's important to remember that price shouldn't be the only factor when choosing a contractor, but it is important to get a fair price for the work that needs to be done.