23 Amazing Bathroom Remodeling Ideas in 2022
It's time to update your bathroom into a stylish oasis where you can relax after a long day. Here are 23 trending bathroom remodeling ideas.
When polled at the end of 2021, homeowners overwhelming agreed that bathroom remodel ideas in 2022 were in order because the most popular project they planned to tackle was just that: bathroom remodels.
Homeowners are always looking for ways to improve their homes, and the bathroom is one of the most popular rooms to remodel. There's a good reason why, too!
Not only does it help turn your bathroom into a stylish oasis where you can relax after a long day but it can actually add a lot of value to your home.
Whether you're interested in increasing your home's resale value or simply want to enhance and improve the style of your existing bathrooms, here's what to know about bathroom remodel trends. Read through to the end for some great remodeling ideas.
Benefits of Remodeling Your Bathroom
Before we dive into some of the top bathroom remodeling ideas for 2022, let's actually talk about why you should be remodeling your bathroom in the first place. Is it a good idea? Does it add value to your home?
Actually, it does! According to Zillow, remodeling your bathroom yields the biggest return in terms of your home's resale value.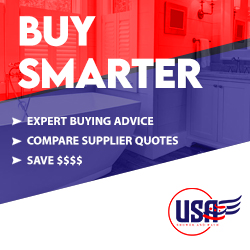 However, outside of the fact that remodeling a bathroom can add value to your home, there are many benefits to remodeling your bathroom.
Here are a few reasons why you should consider remodeling your bathroom this year:
It adds value to your home. We've just said this, but it's so important that we want to mention it again. A new bathroom can add thousands of dollars to the value of your home. If you're planning on selling in the near future, a new bathroom can be a great investment.
It can make your home more energy efficient. An updated bathroom will likely have better insulation and more energy-efficient fixtures. This can save you money on your monthly energy bills.
It can improve your health. Remodeling your bathroom can actually help you stay healthy. For example, adding a hand-held showerhead can make it easier to wash away bacteria and viruses. And installing Grab Bars can help prevent injuries in the bathtub or shower.
Whether you're looking to add value to your home, save money on your energy bills, or stay healthy, there are many benefits to remodeling your bathroom. Not that you needed another reason to buy that cute new tub, though, right?
What Is a Realistic Budget to Remodel a Bathroom?
If you're planning a bathroom remodel, one of the first questions you'll need to answer is how much money you're willing to spend.
The answer, of course, depends on a number of factors, including:
The size and condition of your existing bathroom
The features you hope to include in the new space
The level and quality of finishings you prefer
In general, however, most homeowners can expect to spend somewhere between $5,000 and $19,000 on a mid-range bathroom remodel. Of course, if you're planning a high-end renovation with all the bells and whistles, your budget could easily balloon to $22,000 or more.
But even if you're working with a limited budget, there are plenty of ways to achieve a beautiful and functional bathroom without breaking the bank. With a little creativity and some elbow grease, you can create the bathroom of your dreams without busting your budget.
Here's how.
3 Bathroom Remodel Ideas on a Budget
So, you're thinking about remodeling your bathroom but you're on a tight budget. Don't worry, there are plenty of ways to give your bathroom a makeover without spending too much money.
Read through three of our bathroom remodel ideas on a budget for a variety of DIY projects you can indulge in this year.
1. Change Up the Color Scheme
One of the easiest and most effective ways to give your bathroom a makeover on a budget is to change up the color scheme. If your bathroom is looking dated or drab, a fresh coat of paint can work wonders.
Consider painting the walls a new color, or adding accent tiles or wallpaper for a more dramatic effect. You can also experiment with different shades of grout to create a completely new look.
What are the hottest colors of 2022 for bathrooms? Try soothing shades of green, warm earth tones, or soft blues. Basically, 2022 is the year of zen (we all need it, don't we?).
2. Refinish the Bathtub
Refinishing the bathtub is a great way to give your bathroom an updated look without spending a lot of money. You can either do it yourself or hire a professional to do it for you.
If you refinish the tub yourself, you'll need to purchase a refinishing kit from a hardware store. The kit will come with everything you need to do the job, including directions.
You'll also need to make sure that you have plenty of ventilation in the room while you're working, as the fumes from the refinishing process can be dangerous.
Once you've finished refinishing the tub, you can add new hardware, like faucets and towel bars, to complete the update.
The total cost? Between $400 to $500.
3. Upgrade the Cabinet Hardware
One simple and relatively inexpensive way to upgrade your bathroom is to replace the cabinet hardware.
This includes drawer pulls, cabinet knobs, and hinges. If your current hardware is dated or worn, replacing it can give your cabinets a fresh new look without having to update other expensive items.
Handles and hardware come in a variety of styles, so you can choose something that fits the overall aesthetic of your bathroom. And, you can find affordable options at most home improvement stores or online retailers.
Current Trends in Bathroom Remodels
As mentioned above, a recent survey found that bathroom remodels are one of the most popular home improvement projects for 2022.
And it's no wonder. A well-designed bathroom can be a luxurious retreat, a place to relax and rejuvenate after a long day. But with so many choices available, it can be tough to know where to start.
Here are some of the latest trends in bathroom remodels to help you get inspired.
4. Spa-Like Features
Bathroom remodels are becoming increasingly popular, as more and more homeowners are looking to create a relaxing oasis in their own homes after the stressful few years we've had.
Spa-like features such as rain showers, heated floors, and claw-foot tubs are becoming increasingly popular, as they offer a luxurious escape from the everyday hustle and bustle.
In addition, many homeowners are also opting for double vanities and large walk-in closets to create a sense of serenity and space.
These trends suggest that bathrooms are becoming more than just functional spaces; they're becoming rooms to be enjoyed.
5. Added Seating
One of the current trends in bathroom remodeling is the addition of seating. This can be in the form of a stool or bench and is often added near or inside the shower.
The reasoning behind this trend is that it provides a place to rest while showering, and can also be used as a storage area for shampoo, soap, and other items (when done right).
After all, what's more spa-like than being able to sit on built-in shower seating while you steam under a waterfall showerhead?
Another popular trend that is somewhat related to this is the use of natural materials, such as stone and wood. This is in contrast to the use of more traditional materials like ceramic tile.
Natural materials can add a sense of luxury to the bathroom, and they are also durable and easy to maintain. When adding seating to your bathroom, be sure to keep this in mind.
6. Statement Marble
Statement marble is one of the hottest trends in bathroom remodels right now. Remember, 2022 is all about luxurious bathrooms.
Whether you're looking to update your master bathroom or create a luxurious space for guests, marble can add a touch of glamor and sophistication.
Statement marble can be used in a variety of ways, from floor-to-ceiling tiling to accent walls and vanities. If you're looking for a truly unique look, consider using statement marble in an unexpected way, such as on the ceiling or as a backsplash behind the sink.
Whatever your vision, statement marble can help you create a bathroom that is both stylish and inviting.
7. Plants, Plants, Plants
Plants are having a moment in the design world, and that extends to the bathroom.
More and more homeowners are incorporating plants into their bathroom remodels, whether it's a few potted succulents on the windowsill or a lush green wall.
Plants can help to purify the air, absorb excess moisture, and add a touch of nature to an otherwise sterile space. And there's no need to worry about watering; many plants, such as cactus and bamboo, are quite drought-tolerant.
So if you're planning a bathroom remodel, don't forget to add some plants to the mix.
8. Warm, Earthy Tones
What's the best way to add a calming touch of luxury to your home? Well, according to the latest trends, it's all about making your bathroom warm and inviting.
Earthy tones are in, so think rich chocolate browns and creamy beiges. Warm metallics like bronze and copper are also popular choices. And don't forget about adding some texture! Textured tiles or stone accents can really give your bathroom that extra something special.
9. Walk-In Showers
Walk-in showers are becoming increasingly popular in bathroom remodels. This is likely due to the many benefits they offer. This includes the fact that walk-in showers are:
Easier to clean than traditional showers
More spacious and open
Allow for more space to play with (like that bench seating we mentioned above!)
In general, they just allow for greater flexibility in terms of design. For example, walk-in showers can be outfitted with a variety of features, such as benches, shelves, and rain heads. In addition, walk-in showers can be adapted to fit any space, making them ideal for small bathrooms.
As a result of these benefits, it's no surprise that walk-in showers are one of the most popular trends in bathroom remodeling.
10. Mixing Textures
Gone are the days of everything matching perfectly. Now, it's all about mixing and matching different textures to create an interesting and unique space. You can do this with tile, stone, wood, and even paint.
If you're not sure how to mix textures, start by choosing one element that you really love, such as a stunning piece of marble tile, and build your design around it.
You can also bring in texture with accessories, such as towels, rugs, and shower curtains. Just make sure that you don't go overboard. Too many different textures can make a space feel cluttered and busy.
Stick to a few key elements that you really love, and you'll create a bathroom that you're sure to love for years to come.
11. Smart Showerheads
Smart showerheads offer a variety of features that can appeal to everyone from busy parents to luxury homeowners.
One of the most popular features is the ability to control the showerhead using a mobile app. This allows users to start their shower from anywhere in the house, or even outside the house.
Smart showerheads are also becoming more affordable, making them an attractive option for budget-conscious homeowners looking for a cost-effective way to add something modern and unique to their bathroom remodeling project.
Master Bathroom Remodeling Ideas
Now that you're up to date on some of the bathroom remodeling trends this year, are you ready to start your project? What better place than the master bathroom where you've likely got the most space to place with?
Master bathrooms are a great place to add a touch of luxury, whether it's a spa-like soaking tub or a beautiful marble vanity. But when it comes to remodeling, it's important to keep function in mind as well as form.
Here are some ideas to help you get the most out of your master bathroom remodel.
12. Install a Shower Bench
One of the best things you can do when remodeling your master bathroom is to install a shower bench. Not only will it add value to your home, but it will also provide a place for you to relax and unwind after a long day.
There are a few things you need to keep in mind when selecting a shower bench, though.
First, you want to make sure it is big enough to comfortably fit two people. There's no point in adding in-shower seating if it's not going to be truly functional and spacious.
Additionally, you want to make sure it is made of durable materials that can withstand the rigors of daily use. Ideally, this would mean it's made of the same material your shower is made of. Stone, marble, or high-end ceramic tile looks best here.
And finally, you want to make sure it has a non-slip surface to prevent accidents. With these things in mind, you should be able to craft and install the perfect shower bench for your master bathroom.
13. Add Texture With Light Fixtures
One of the best ways to add texture to your master bathroom is by incorporating light fixtures. By playing with different materials, finishes, and sizes, you can create a unique look that adds interest and visual appeal.
For a modern touch, try using geometric shapes or clean lines. This depends on the shape of your master bathroom, though. If your bathroom already features a lot of harsh lines, try adding light fixtures that are curved to soften the aesthetic a bit.
You can also go for a more traditional look with lantern-style fixtures or sconces. If you really want to make a statement, consider using a chandelier.
Don't be afraid to get crazy here. A bathroom is now a place where you can incorporate various design trends that were previously reserved for other rooms of the home. Just browse through modern bathroom lighting ideas for some inspiration.
14. Add a Skylight to the Shower
Want to jump on the trend of creating a spa-like atmosphere in your master bathroom? During your remodel, add a skylight to the shower! This lets light flood in and brightens up any space.
However, skylights also feel a bit upscale and spa-like as they're typically reserved for high-rises and elegant spaces. Add one to your master bathroom and unleash the radiance of the natural sun.
Plus, they can also help ventilate the space, keeping it free of humidity and mildew.
Ultimately, if you're not ready for a full remodel, skylights are a great way to add some fresh style to your master bathroom without changing too much of the entire layout or plumbing in the space.
Small Bathroom Remodeling Ideas
Don't have the time or budget to remodel your master bathroom? Maybe you don't have a large master bathroom. Whatever the case is, there are also tons of small bathroom remodeling ideas, too.
There are a few things to keep in mind when remodeling a small bathroom, though.
First, consider what your needs are. You may need to make more use of storage space, or you may want to create a more open feel. When it comes down to it, focus on functionality first over design.
Then, think about what your budget is. You can find some great small bathroom remodeling ideas online or in magazines, but be realistic about what you can afford.
Finally, don't be afraid to get creative. Small bathrooms can be just as stylish and functional as larger ones, so think outside the box! Often, because you're forced to think outside of the box, they actually end up being more fun and creative projects.
Whether you're looking for storage solutions or ways to make your bathroom feel more spacious, here are some small bathroom remodel ideas to get you started.
15. Add a Statement Mural
If you have a small bathroom, you may feel like you're stuck with the same design choices as everyone else. But just because your space is limited doesn't mean that you have to compromise on style.
There are plenty of ways to make a small bathroom look and feel luxurious, and one of the best is to add a statement mural. A bold wallpaper or tile mural can add personality and interest to even the most basic room.
And because it's such a focal point, you won't need to splurge on other materials or finishes to make your bathroom stand out. So if you're looking for a way to add some impact to your small space, consider adding a statement mural. It's sure to give your bathroom the wow factor.
16. Incorporate Marble
Incorporating marble into your small bathroom remodel is a great way to add a touch of luxury without breaking the bank. Marble is classic and timeless, and it comes in a variety of colors and patterns that can suit any style.
And because the bathroom is small, you don't have to splurge on lots of marble materials. Plus, it's easy to care for and maintain, so you won't have to worry about it losing its luster over time.
What are some unique ways to incorporate marble into a small bathroom remodel? Incorporate it into the sink or in the light fixtures. In this way, you can change something small and still make a big impact.
17. Spice Up the Colors
As anyone who has ever remodeled a bathroom knows, there are a lot of big decisions to make. But sometimes, it's the small details that can really make or break a room. When it comes to small bathroom remodeling ideas, changing the colors is a great place to start.
A fresh coat of paint can do wonders for a space, and it's a relatively low-cost way to give your bathroom an entirely new look.
If you're feeling bold, go for a bright and bold color scheme. Or, if you prefer something a little more subdued, try painting the walls a neutral color and adding pops of color through accessories and towel bars.
Either way, spicing up the color scheme of your small bathroom is an easy and inexpensive way to add personality to your space.
Shower Remodeling Ideas
Want to focus your bathroom remodel on just your shower?
There are a lot of things to consider when remodeling your shower. For instance, you'll need to decide what type of showerhead you want, as well as what kind of tile or stone you want to use for the floor and walls.
You'll also need to think about storage.
Do you want shelves built into the shower?
Do you need a separate storage unit outside the shower?
Is there enough storage in the rest of your bathroom to begin with?
And of course, you'll need to choose a style that fits your bathroom's overall design scheme.
With so many decisions to make, it's no wonder that many people find shower remodeling overwhelming. But don't worry. We're here to help.
18. Build Niches for More Storage
There are plenty of shower remodeling ideas to choose from, no matter your style or budget. One popular option is to build niches into the shower walls. Niches are another word for a recessed shelf, which basically goes into the wall instead of sticking out.
This provides additional storage for items like shampoo, soap, and towels, and can also be used to showcase decorative tiles or accents.
If you're working with a small space, this can help give your shower a more spacious feel as it won't take up space; instead, it adds space!
Not only that, but shower niches actually look pretty upscale and luxurious. When done right, installing a shower niche can upgrade the entire look and feel of your shower.
19. Create a Curved Shower
When it comes to shower remodeling ideas, one popular trend is to create a curved shower. This can be done by adding a curved shower rod or by reconfiguring the existing plumbing.
Curved showers create an air of luxury and can make your bathroom feel more spacious. They can also be more practical, as they provide more room for washing and allow you to put soap and shampoo bottles on shelves without them getting in the way.
If you're short on space, a corner shower can also be a good option. These take up less room and can be especially helpful in small bathrooms.
20. Upgrade Your Showerhead
If you're looking for a quick and easy way to give your shower a makeover, consider upgrading your showerhead. A new showerhead can provide a more enjoyable showering experience, as well as save you money on your water bill.
When choosing a new showerhead, be sure to consider the different features that are available. For example, many newer models come with massage settings or offer different spray patterns. You can also find showerheads that include built-in filters to help remove impurities from your water.
If you're not sure which type of showerhead is right for you, ask a professional at your local home improvement store for advice. Or, browse different types of showerheads for inspiration that can help you see how you might redesign the rest of your shower based on the showerhead that you like.
5×8 Bathroom Remodeling Ideas
A 5×8 bathroom is a pretty standard guest bathroom size. However, they don't leave you much room when remodeling. When it comes to 5×8 bathroom remodeling ideas, there are a few things you can do to make the most of this small space.
21. Get Rid of the Tub
If you're thinking about remodeling your 5×8 bathroom, one of the first things you might want to consider is getting rid of the tub. After all, most people only use their tubs for showers anyway, so why not open up some extra space in your bathroom by getting rid of it?
In addition, ditching the tub will also allow you to choose a wider variety of tile and flooring options for your bathroom, as you won't have to worry about fitting a tub into your new design.
22. Build a Pocket Door
Remodeling a small bathroom can be a challenge, but with the right ideas, it can also be a fun and rewarding experience. One of the best ways to save space in a small bathroom is to build a pocket door.
Pocket doors slide into the wall, so they don't take up any extra space when they're open. They're also great for adding privacy to a bathroom since you can close them when you're using the toilet or taking a shower.
When remodeling a 5×8 bathroom, this can help you save space and open up the options for adding in other design elements.
23. Add Natural Light
If your 5×8 bathroom feels cramped and dark, one of the best ways to remodel it is to add more natural light. This can be as simple as installing a skylight or as dramatic as adding a window. If privacy is a concern, frosted glass or privacy film can still allow plenty of light in while keeping prying eyes out.
Another way to brighten up a small bathroom is to paint the walls and ceiling in a light, neutral color. This will reflect more light and make the space feel larger.
Finally, consider replacing any fluorescent lighting with more flattering incandescent bulbs. These give off a softer light that will make your bathroom feel more inviting.
Find the Right Shower and Bath Design Help
Whether you're looking for some of the best bathroom remodel ideas in 2022 because you're excited about an upcoming project or because you're not sure where to start, we can help.
At USA Shower and Bath, we specialize in, well, showers and baths. From shower installation guides to tub installation guides, we have all of the information and experience you need to ensure your bathroom remodel goes smoothly.
Get in touch with one of our experts today! Start Below