How to Maximize Space With a Small Bathroom Remodel
Remodeling a small bathroom can be quite a challenge. But with the right planning and design, you can maximize the space in your small bathroom and make it look bigger without changing its size. This article will discuss various tips and tricks on how to maximize space in a small bathroom remodel including clever storage solutions, smart fixtures, and clever layout ideas.
What is the Average Bathroom Size?
The average size of a bathroom is typically around 100 to 150 square feet, although this may vary depending on the type and size of the house.
For example, a large two-story home will generally have larger bathrooms than a smaller single-story home.
Within these ranges, typical bathroom layouts usually include a sink, shower/bathtub, and toilet.
On the smaller end, bathrooms can be as small as 40 to 50 square feet. This is typically the size of a half bathroom and does not contain a bath or shower, only a sink and toilet.
Measure the Space and Make a Plan
When it comes to a small bathroom remodel, one of the most important things to do is to measure the space and make a plan. Taking precise measurements is an important first step and will help ensure that you maximize the potential of your small bathroom and create a design that works best for your needs.
It's essential to consider how much space is available, what the main function of the bathroom is, and what type of fixtures you would like to include. This will help you develop a vision for the remodel that fits your space and allows you to make the most out of it.
In addition, consider following these simple tips to maximize space during your bathroom remodel:
Choose Clever Storage Solutions
Creating clever storage solutions is one of the best ways to make the most of your small bathroom. Incorporating built-in cabinets, shelves, and drawers into the design can help you maximize space and provide plenty of storage for items such as towels, toiletries, and cleaning supplies.
Wall-mounted shelves are also a great option as they take up minimal space but provide ample storage. If you have extra wall space, you can install additional shelves that are perfect for storing items like extra toilet paper rolls and cleaning supplies.
Install Smart Fixtures
Installing smart fixtures is another great way to make the most of a small bathroom remodel. Look for fixtures that provide both form and function such as dual-flush toilets or tubs with built-in shelves. These fixtures can help you save space and create a more efficient layout for your bathroom.
You can also install multi-functional showerheads that provide multiple spray patterns and adjustable heights, allowing you to customize your shower experience while also conserving water.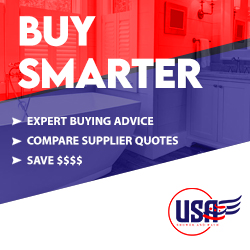 Design an Efficient Layout to Maximize Space
Finally, it's important to design an efficient layout that maximizes the space in your bathroom. You can do this by keeping the fixtures close together, incorporating corner sinks and toilets, and using built-in storage.
Utilize Natural Light
You should also consider how much natural light you have in the room and utilize it to make the most of your small bathroom remodel. Incorporating mirrors and light colors can also help make the space feel bigger.
Maximize Space with Vertical Shelves and Cabinets
One of the best ways to maximize space in a small bathroom remodel is to utilize vertical storage solutions. This can be achieved by incorporating shelves and cabinets that are mounted on the walls or ceiling. Wall-mounted shelves are an ideal option for storing items such as extra toilet paper rolls and cleaning supplies, while wall-mounted cabinets can be used to store larger items such as towels and toiletries.
Having vertical storage solutions can also help to make the space feel more spacious by freeing up floor space and allowing for easier movement throughout the room.
Choose Multipurpose Furniture Pieces
Incorporating multipurpose furniture pieces into your small bathroom remodel can be a great way to maximize the space. There are many options available for small bathrooms such as vanities with storage drawers or shelves and benches with built-in storage. These pieces can provide extra storage and also help make the space feel larger.
Consider Open Shower Options
Open shower options are an ideal choice for small bathroom remodels as they maximize space and provide a more luxurious feel. Not only do open showers eliminate the need for bulky shower doors and curtains, but they allow for more natural light to enter the room. This can help make the space feel larger and brighter while still providing the necessary privacy.
Instal Sliding Doors for Easy Accessibility
If you are planning to incorporate a shower or bathtub into the design, consider installing sliding doors. Sliding doors can be an excellent option for small bathrooms as they provide easy accessibility and take up minimal space while still providing privacy.
By following these tips, you can make the most of your small bathroom remodel and create a beautiful and functional space. With careful planning and design, you can transform your small bathroom into a luxurious haven that is both stylish and practical.
How Much Does it Cost to Remodel a Small Bathroom?
The cost of a bathroom remodel can vary depending on the scope of the project and the materials that are used. Generally speaking, a basic budget-friendly remodel will cost anywhere from $5,000 to $10,000 while an upscale remodel can cost up to $25,000 or more.
It is important to consider the cost of labor, materials, and fixtures when budgeting for a small bathroom remodel.
Additionally, it is important to factor in the time required for the project and any potential delays or additional costs that may arise during the process.
Overall, a well-planned small bathroom remodels can be an affordable and rewarding endeavor that will add value to your home. With careful planning and budgeting, you can create an elegant and functional space that will be enjoyed for years to come.
Before beginning any remodeling project, it is important to consult a professional contractor who can provide valuable insight into the process and help you determine the best course of action for your needs. Additionally, they will be able to provide an accurate estimate of the project cost, as well as ensure that the work is done correctly and safely.
With careful planning, creativity, and a bit of imagination, you can create a beautiful and functional bathroom that you and your family can enjoy for many years to come.