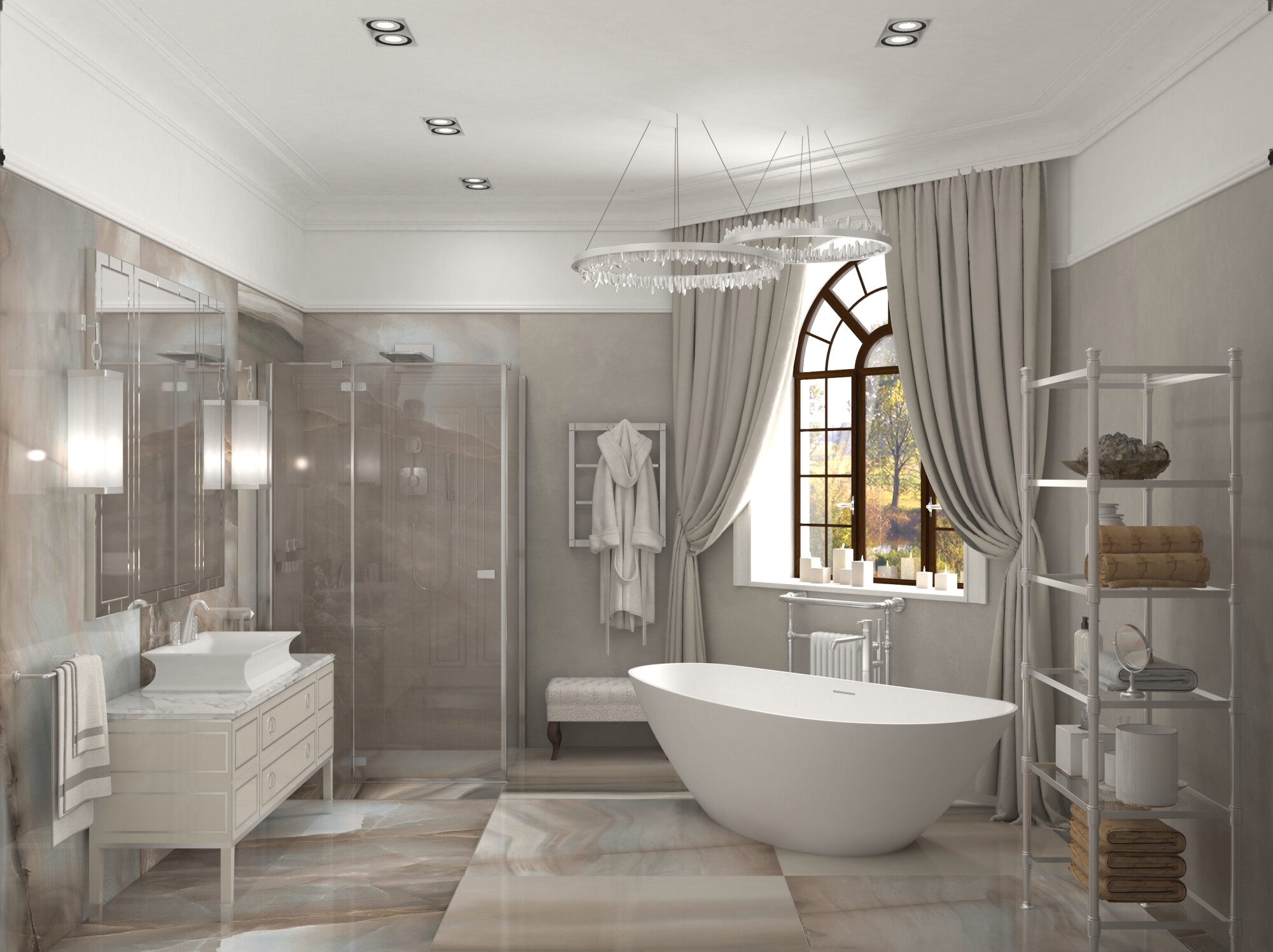 Bathroom Remodeling Costs in California
Find out how much bathroom remodeling costs in California. America's trusted buying guide for shower replacement, bathtub installation, and full bath remodel jobs.
How Much Does Bathroom Remodeling Cost in California?
In general, homeowners in California can expect to pay between $5,911 and $29,413 to do a complete bathroom remodel. There are a number of factors that will determine your actual price, such as:
Bathroom Square Footage
Type and style of tub and shower desired
Removal of existing tub and shower
Potential plumbing installation needs
Type of lighting fixtures installed
Homeowners can get highly accurate quotes on bathroom remodeling with a free in-home consultation. It is strongly recommended that you compare at least two quotes from reputable home pros in your area.
What's Included in a Full Bath Remodel?
In most cases, a full bathroom remodel literally covers all aspects of the job, including, but not limited to the following:
Bath Tub Installation
Shower Installs
Plumbing Work
Tile Services
Faucets
New Sinks Installtion
Lighting Fixtures
Get Bathroom Remodeling Quotes in These California Cities and More: San Jose, CA; San Diego, CA; Los Angeles, CA; Roseville, CA; Anaheim, CA; San Francisco, CA; Irvine, CA; Sacramento, CA; Fontana, CA; Bakersfield, CA; Huntington Beach, CA; Fremont, CA; Oakland, CA; Modesto, CA; Moreno Valley, CA; Long Beach, CA; Santa Ana, CA; Fresno, CA; Riverside, CA; Chula Vista, CA; Stockton, CA; San Bernardino, CA; Glendale, CA; Ontario, CA; Rancho Cucamonga, CA; Santa Rosa, CA; Oceanside, CA; Elk Grove, CA; Garden Grove, CA; Corona, CA; Hayward, CA; Lancaster, CA; Salinas, CA; Palmdale, CA; Sunnyvale, CA; Pomona, CA; Escondido, CA; Torrance, CA; Fullerton, CA; Victorville, CA; Concord, CA; Visalia, CA; Orange, CA; Pasadena, CA; Santa Clara, CA; Thousand Oaks, CA; Simi Valley, CA; Vallejo, CA
How Much Does Shower Installation Cost in California?
In California, the average cost of shower installation ranges between $2,401-$12,607. In part, the actual price will be driven by the size of the bathroom, the material used to install the shower, and any add-ons or features.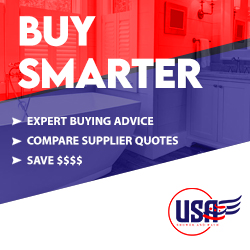 If you're a do-it-yourself kind of person, you may be able to install a standard shower for as little as $1,308, or a more luxurious shower for around $5,210.
Tub To Shower Conversion Cost
Alternatively, a DIY project for a walk-in shower will run you around $3,404-$4,807. If you employ the services of a trained bathroom remodeling company, a walk-in shower fully installed will cost between $4,901-$11,610.
For do-it-yourself projects, you can find a full line of shower products at Home Depot and Lowe's. However, if you're not comfortable with plumbing, tile installation, and a host of other potential problems, we recommend working with an experienced shower installation company.
How Much Is Bathtub Installation in California?
The average homeowner in California will invest between $1,215-$3,407 to install a bathtub. Naturally, it is likely that a standard bathtub will be much less expensive than installing a tub in the master bathroom. Also, keep in mind there are various types of tubs, such as:
Standard Bathtub
Soaking Tubs
Whirlpool
Jetted Tubs
Walk-In Bath Tubs
Cast Iron Tubs
How Much Do Walk-In Tubs Cost?
Walk-in tubs are amazing and very useful for elderly and handicapped individuals. A walk-in tub it's going to cost anywhere from $2,594-$15,481.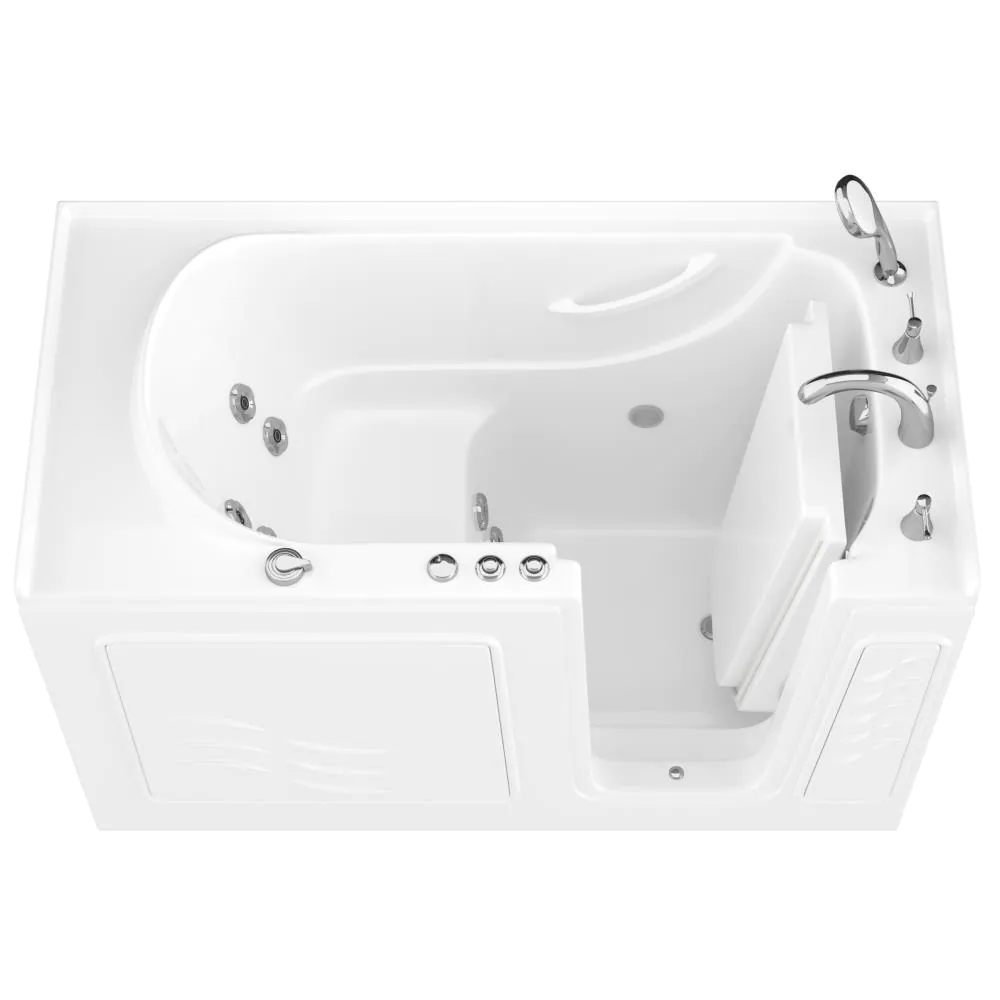 The cost of a walk-in tub can vary depending on what you are looking for. You will have to take into consideration the size, brand, and features as well.
Walk-in tubs provide convenience and added safety for people who have mobility issues. They allow the user to literally walk into the tub without having to step over an edge. Once inside with the door closed, they can fill up the tub.
The Real Deal: Bathroom Remodeling Costs in California
If you're anything like me, you're intrigued by the potential of a newly remodeled bathroom. But before you pick up that sledgehammer, let's talk numbers. I'm going to share with you some insights on the bathroom remodeling costs in California.
Understanding the Cost Variables
First, it's crucial to understand that costs can fluctuate greatly, even within California. Factors such as the size of your bathroom, the quality of materials, and the complexity of the renovation play a huge role in determining the final bill. Do you want a simple facelift or a complete overhaul? That's a crucial question! For a minor remodel, you might be looking at a bill of around $10,000 – $15,000. However, for a full-scale renovation, it could rise upwards of $30,000.
Making Smart Choices
Budgeting: Keep in mind, there's more to a remodel than just materials and labor. Permit fees, unexpected problems (trust me, there are always a few), and, of course, your own time and sanity are also on the line. I always advise you to budget an additional 20% for these unforeseen expenses.
Materials: High-end materials can make your bathroom feel like a spa retreat, but they come with a hefty price tag. A solid surface vanity countertop, for instance, can set you back a pretty penny.
Labor: Labor costs in California are higher than the national average. Make sure to obtain several estimates and references before selecting a contractor.
Remember, a remodel isn't just about aesthetics, it's also an investment. Make wise choices, and your bathroom remodel will not only be a source of enjoyment but will also add value to your home.
What Type of Solution Do You Need?
Find Bathroom Remodeling Companies Near You
No matter where you are in California we can help you find a bathroom remodeling company near you. See our service area map below, or simply click the link at the bottom of this page to be connected with bath remodel companies in your area.
Resource Guides:
Bathroom Remodeling Services in San Jose, Bathroom Remodeling Services in Los Angeles, Bathroom Remodeling Services in San Diego, Bathroom Remodeling Services in Roseville, Bathroom Remodeling Services in Anaheim, Bathroom Remodeling Services in San Francisco, Bathroom Remodeling Services in Irvine, Bathroom Remodeling Services in Sacramento, Bathroom Remodeling Services in Fontana, Bathroom Remodeling Services in Bakersfield, Bathroom Remodeling Services in Santa Clara, Bathroom Remodeling Services in Thousand Oaks, Bathroom Remodeling Services in Simi Valley, Bathroom Remodeling Services in Vallejo, Bathroom Remodeling Services in Orange, Bathroom Remodeling Services in Pasadena, Bathroom Remodeling Services in Concord, Bathroom Remodeling Services in Visalia, Bathroom Remodeling Services in Escondido, Bathroom Remodeling Services in Torrance, Bathroom Remodeling Services in Fullerton, Bathroom Remodeling Services in Victorville, Bathroom Remodeling Services in Lancaster, Bathroom Remodeling Services in Salinas, Bathroom Remodeling Services in Palmdale, Bathroom Remodeling Services in Sunnyvale, Bathroom Remodeling Services in Pomona, Bathroom Remodeling Services in Elk Grove, Bathroom Remodeling Services in Garden Grove, Bathroom Remodeling Services in Corona, Bathroom Remodeling Services in Hayward, Bathroom Remodeling Services in Ontario, Bathroom Remodeling Services in Rancho Cucamonga, Bathroom Remodeling Services in Santa Rosa, Bathroom Remodeling Services in Oceanside, Bathroom Remodeling Services in Oxnard, Bathroom Remodeling Services in Stockton, Bathroom Remodeling Services in San Bernardino, Bathroom Remodeling Services in Glendale, Bathroom Remodeling Services in Long Beach, Bathroom Remodeling Services in Santa Ana, Bathroom Remodeling Services in Fresno, Bathroom Remodeling Services in Riverside, Bathroom Remodeling Services in Chula Vista, Bathroom Remodeling Services in Huntington Beach, Bathroom Remodeling Services in Fremont, Bathroom Remodeling Services in Oakland, Bathroom Remodeling Services in Modesto, Bathroom Remodeling Services in Moreno Valley
California Zip Codes Where We Provide Bathroom Remodeling Services
San Jose
95123, 95127, 95112, 95111, 95122, 95116, 95125, 95124, 95148, 95136, 95132, 95129, 95120, 95121, 95128, 95126, 95118, 95131, 95117, 95134, 95133, 95135, 95138, 95110, 95130, 95119, 95139, 95113
Los Angeles
90011, 90044, 90003, 90026, 90037, 90022, 90019, 90042, 90004, 90001, 90006, 90066, 90063, 90034, 90018, 90002, 90024, 90047, 90046, 90057, 90033, 90032, 90025, 90023, 90065, 90059, 90016, 90043, 90027, 90007, 90045, 90031, 90005, 90020, 90036, 90029, 90012, 90049, 90062, 90008, 90028, 90039, 90041, 90038, 90061, 90017, 90035, 90064, 90015, 90048, 90068, 90013, 90040, 90094, 90014, 90077, 90056, 90010, 90089, 90021, 90058, 90067, 90073, 90071, 90079, 90095
San Diego
92154, 92126, 92105, 92114, 92115, 92113, 92117, 92130, 92129, 92128, 92111, 92127, 92122, 92109, 92104, 92102, 92101, 92139, 92131, 92103, 92116, 92124, 92123, 92107, 92120, 92110, 92119, 92108, 92106, 92121, 92140, 92145, 92135, 92147, 92155, 92134, 92132
Roseville
Anaheim
92804, 92805, 92801, 92802, 92806, 92807, 92808
San Francisco
94112, 94110, 94122, 94109, 94116, 94117, 94121, 94134, 94118, 94124, 94114, 94115, 94107, 94132, 94102, 94103, 94131, 94133, 94123, 94127, 94108, 94105, 94129, 94111, 94130, 94104, 94128
Irvine
92620, 92618, 92612, 92604, 92614, 92606, 92602, 92603
Sacramento
95823, 95828, 95822, 95831, 95835, 95833, 95826, 95838, 95825, 95820, 95821, 95842, 95824, 95834, 95829, 95815, 95864, 95818, 95841, 95827, 95819, 95816, 95817, 95832, 95814, 95830, 95837
Fontana
Bakersfield
93307, 93306, 93312, 93309, 93313, 93308, 93304, 93311, 93305, 93301
Huntington Beach
Fremont
Oakland
94601, 94605, 94611, 94606, 94603, 94621, 94610, 94602, 94607, 94619, 94609, 94618, 94612, 94613
Modesto
95355, 95350, 95351, 95356, 95358, 95354, 95357
Moreno Valley
Long Beach
90805, 90813, 90806, 90815, 90808, 90804, 90802, 90810, 90807, 90803, 90814, 90822, 90831
Santa Ana
92704, 92703, 92707, 92701, 92705, 92706
Fresno
93722, 93727, 93720, 93702, 93726, 93706, 93711, 93705, 93710, 93703, 93704, 93725, 93728, 93701, 93721, 93650
Riverside
92503, 92509, 92504, 92507, 92505, 92506, 92508, 92501
Chula Vista
91911, 91910, 91913, 91915, 91914
Oxnard
Stockton
95206, 95207, 95209, 95210, 95205, 95212, 95219, 95204, 95215, 95203, 95202, 95211
San Bernardino
92407, 92404, 92410, 92405, 92411, 92408, 92401
Glendale
91205, 91206, 91202, 91201, 91204, 91208, 91203, 91207, 91210
Ontario
Rancho Cucamonga
Santa Rosa
95403, 95407, 95404, 95401, 95409, 95405
Oceanside
Elk Grove
Garden Grove
92840, 92843, 92841, 92844, 92845
Corona
92882, 92880, 92879, 92883, 92881
Hayward
Lancaster
Salinas
93906, 93905, 93901, 93907, 93908
Palmdale
Sunnyvale
Pomona
Escondido
Torrance
90503, 90501, 90505, 90504, 90502, 90506
Fullerton
Victorville
Concord
Visalia
Orange
92867, 92869, 92868, 92865, 92866
Pasadena
91104, 91107, 91103, 91106, 91101, 91105
Santa Clara
Thousand Oaks
Simi Valley
Vallejo
More California Zip Codes we serve:
95220, 93510, 92301, 96006, 91301, 92536, 93601, 94501, 94502, 94507, 94706, 95410, 95511, 91801, 91803, 92656, 95910, 93201, 91901, 95701, 91001, 96101, 95002, 95601, 92304, 94503, 96007, 95222, 92305, 94508, 95412, 95843, 94509, 94531, 92539, 92308, 92307, 95703, 95003, 95912, 91007, 91006, 95521, 93202, 95223, 95004, 93420, 90701, 93203, 93422, 94027, 95301, 93602, 95603, 95602, 95604, 90704, 93204, 95224, 93424, 91702, 93603, 92309, 91706, 95303, 95914, 92220, 92222, 92311, 93604, 95524, 95903, 92223, 96129, 95915, 90201, 96008, 90706, 94002, 94920, 95005, 94510, 93512, 94704, 94703, 94702, 94705, 94709, 94707, 94708, 94710, 94720, 95916, 94511, 90210, 90212, 90211, 96009, 96010, 92314, 92315, 96011, 93605, 95305, 93513, 93920, 95917, 93606, 94512, 93514, 96103, 95514, 92316, 95525, 92225, 94922, 94923, 93205, 94924, 91902, 92003, 95415, 93516, 92004, 95006, 91905, 93426, 93064, 95417, 92227, 92821, 92823, 94513, 93517, 95526, 94005, 95007, 95606, 95918, 95919, 93427, 90620, 90621, 91505, 91504, 91501, 91506, 91502, 94010, 96013, 95527, 95225, 95920, 93206, 94514, 92230, 91302, 92231, 93518, 93505,
93207, 92320, 92233, 94515, 96014, 96124, 93010, 93012, 93428, 95709, 93208, 92055, 95008, 91906, 95226, 95922, 96015, 91304, 91303, 93519, 93608, 94516, 91387, 91351, 95923, 95607, 92624, 95010, 92007, 95528, 92009, 92008, 93923, 93921, 93924, 95608, 96140, 93013, 90745, 90746, 90747, 93609, 93429, 95420, 96016, 91384, 96017, 94546, 94552, 95012, 92234, 95306, 93430, 95421, 92321, 92322, 96104, 95307, 90703, 95925, 91311, 96020, 95926, 95928, 95973, 96105, 91710, 91708, 91709, 93610, 93925, 95610, 95621, 91711, 95612, 94517, 95422, 95423, 95227, 96106, 95930, 95425, 93611, 93612, 92236, 93210, 93614, 95426, 96107, 95713, 92324, 95310, 95932, 95427, 90220, 90221, 90222, 95614, 95228, 93212, 96021, 92625, 92118, 94925, 92627, 92626, 94931, 96022, 95311, 95615, 95428, 91722, 91724, 91723, 95013, 95531, 95934, 95312, 92325, 93432, 94525, 95313, 90230, 90232, 95014, 93615, 90630, 92327, 94015, 94014, 92629, 94526, 94506, 95314, 93522, 95017, 95616, 96108, 92328, 94576, 92014, 93616, 93215, 95315, 95316, 91916, 92239, 92240, 92241, 94528, 91765, 95619, 94929, 93618, 95620, 95935, 96023, 93620, 95429, 96024, 90241,
90242, 90240, 95936, 96109, 95699, 91010, 94568, 93218, 91917, 95430, 93621, 95937, 96025, 95938, 95714, 96110, 93219, 92242, 95721, 93220, 93523, 93524, 92021, 92020, 92019, 92243, 94530, 95623, 95762, 95618, 91732, 91731, 95317, 95318, 90245, 94803, 95431, 95432, 95939, 95625, 95626, 94608, 95715, 95319, 92024, 91316, 91436, 95320, 95627, 92332, 96027, 95503, 95501, 93221, 95628, 94930, 94533, 96028, 92028, 93223, 95230, 92333, 93224, 95018, 95536, 95629, 95537, 93015, 95435, 93622, 93623, 93624, 96111, 96029, 95630, 92610, 95941, 92339, 94933, 95942, 95631, 95436, 96031, 96112, 95437, 92310, 96032, 95540, 92708, 93625, 93225, 93222, 95019, 95231, 96033, 93626, 95439, 95632, 95542, 95633, 90247, 90249, 90248, 95543, 96034, 95634, 96035, 95441, 95020, 95442, 95232, 91741, 91740, 95443, 95943, 93226, 95717, 93117, 93926, 95944, 91344, 92313, 95746, 95945, 95949, 95444, 92341, 94904, 93927, 96037, 95947, 95635, 96038, 95948, 95950, 95636, 95321, 93433, 93434, 95445, 91931, 95446, 95637, 95322, 91745, 94019, 95951, 93230, 96039, 90710, 96040, 95233, 90716, 90250, 96041, 95448, 92249, 92342, 93627, 92544,
92545, 92543, 95638, 94547, 96113, 90254, 92345, 95323, 92346, 95324, 92347, 95023, 95234, 92250, 92548, 96141, 95545, 95639, 95546, 95449, 96044, 95325, 95326, 93628, 90255, 93234, 96046, 95547, 92549, 96047, 92251, 91932, 93526, 92210, 92201, 92203, 90301, 90302, 90304, 90303, 90305, 94937, 93527, 95640, 95641, 93235, 95642, 91934, 95327, 91935, 96114, 95450, 93528, 93928, 92252, 92036, 96048, 93529, 93530, 93531, 95451, 95452, 93630, 93238, 93239, 95328, 93930, 96143, 93633, 93631, 95646, 95548, 96050, 95549, 95645, 94548, 95550, 95720, 91011, 91214, 95329, 90631, 94020, 92037, 91942, 91941, 90638, 90623, 91744, 91746, 92253, 91750, 92694, 94549, 92651, 92653, 92637, 92677, 94938, 92352, 96115, 92530, 92532, 92630, 93532, 93240, 96051, 95453, 93634, 92040, 90712, 90713, 90715, 93241, 92285, 94939, 95330, 93242, 90260, 95454, 95333, 93243, 93541, 95585, 93244, 91945, 93245, 96052, 96116, 95648, 95236, 93247, 96117, 95456, 93543, 95953, 94550, 94551, 95334, 93544, 95237, 93932, 95240, 95242, 95551, 92354, 94021, 90717, 93436, 93437, 93545, 95335, 96054, 95650, 90720, 93440, 94024, 94022, 93635, 95032,
95030, 95033, 96055, 93441, 93402, 93249, 95651, 95457, 96118, 95458, 92356, 92338, 90262, 92358, 96058, 95552, 96119, 93638, 93637, 95653, 95954, 90265, 90263, 93546, 95459, 90266, 95336, 95337, 96059, 92518, 93252, 93933, 90292, 95338, 96120, 94940, 94553, 95901, 95655, 95955, 90270, 93250, 93251, 96056, 95652, 96057, 95519, 95956, 95722, 92254, 95460, 93640, 92584, 94025, 92359, 95340, 95348, 95341, 95957, 95346, 95461, 95345, 92655, 96121, 96061, 94941, 94030, 96062, 95035, 96063, 91752, 93641, 95553, 91345, 92691, 92692, 93501, 95245, 91016, 96064, 94037, 91763, 95462, 90640, 93940, 93943, 91754, 91755, 96065, 91020, 93021, 94556, 94575, 95037, 92256, 93442, 94038, 95039, 95140, 95041, 91948, 96067, 92561, 95246, 94040, 94043, 94041, 91759, 95247, 92563, 92562, 95554, 94558, 94559, 91950, 95463, 92363, 95959, 93254, 94560, 92365, 91320, 95658, 91321, 95360, 92660, 92663, 92661, 92662, 92657, 94946, 95464, 95659, 92257, 93444, 92364, 92860, 95724, 93643, 95660, 91343, 91605, 91606, 91601, 91602, 92258, 95960, 91326, 91325, 91324, 91330, 90650, 94947, 94945, 94949, 96068, 92567, 93645, 91377, 96069,
93022, 95361, 93644, 94561, 95465, 93445, 92259, 93023, 93549, 96071, 94950, 95961, 96146, 93255, 93646, 95662, 95962, 95555, 94563, 95963, 95556, 92368, 93647, 95966, 95965, 93950, 90272, 94044, 91331, 95043, 92059, 95968, 92260, 92211, 92262, 92264, 94303, 94306, 94301, 94304, 96073, 92266, 92060, 90274, 91402, 95969, 90723, 92267, 93648, 96074, 93446, 95363, 92061, 96075, 93553, 93953, 95946, 94951, 95663, 92570, 92571, 94060, 94954, 94952, 95558, 92371, 95559, 95466, 90660, 95587, 95664, 95665, 91962, 95364, 94564, 92372, 95666, 92268, 93040, 93449, 94565, 93256, 92870, 95667, 95365, 96076, 90293, 95668, 94523, 94566, 94588, 95669, 95468, 93042, 94956, 95726, 94567, 94569, 93041, 93043, 93257, 93258, 96122, 94028, 93260, 91963, 95469, 92064, 93651, 95970, 95971, 95248, 93652, 92065, 92066, 95670, 95742, 92270, 90275, 92067, 92091, 92688, 93554, 96123, 93653, 96080, 93558, 95569, 96003, 96001, 96002, 96049, 92374, 92373, 90278, 90277, 95560, 94061, 94063, 94062, 94065, 95470, 93654, 95672, 91335, 92376, 92377, 93261, 94804, 94801, 94805, 94850, 95974, 93555, 92378, 95562, 95673, 95471, 95674, 94571,
95366, 95675, 95367, 93656, 95765, 95677, 94572, 94928, 93560, 91770, 94957, 95975, 96084, 91748, 95679, 92382, 94573, 95680, 94574, 95368, 92275, 95563, 95564, 95249, 94960, 93450, 94066, 94070, 92672, 92673, 91773, 91340, 91776, 91775, 94963, 94074, 92583, 92582, 93660, 95045, 92675, 94577, 94578, 94579, 94580, 93954, 93405, 93401, 93410, 92078, 92069, 91108, 95046, 94403, 94404, 94401, 94402, 93451, 94806, 90731, 90732, 94964, 94901, 94903, 94583, 93452, 92173, 93657, 93101, 93105, 93103, 93111, 93110, 93109, 93108, 91350, 91390, 95060, 95062, 95064, 95065, 90670, 93453, 93458, 93455, 93454, 90405, 90403, 90404, 90402, 90401, 93060, 93460, 92070, 92071, 95070, 94965, 95565, 96085, 95066, 90740, 93955, 95472, 92273, 96086, 93662, 93262, 93263, 93461, 96087, 96019, 93664, 95250, 95681, 91423, 91403, 95682, 96088, 92384, 96125, 91024, 96126, 92676, 92385, 95683, 95977, 95567, 95369, 95728, 92075, 93960, 93463, 95684, 95568, 93066, 95476, 95370, 95073, 95372, 93665, 91733, 90280, 96150, 96155, 91030, 94080, 93962, 91977, 91978, 93265, 93675, 96128, 94305, 90680, 91381, 95374, 94970, 95978, 95979, 93266,
93267, 95375, 95981, 91604, 92386, 94585, 93666, 93067, 92585, 92586, 92587, 91352, 91040, 94586, 90742, 90743, 96130, 95982, 95685, 91342, 93268, 96145, 96148, 96142, 91356, 95983, 91980, 92389, 93561, 96090, 92592, 92591, 92590, 91780, 93465, 96132, 93270, 95497, 92274, 95686, 92276, 93271, 93272, 93667, 94971, 90290, 96133, 90503, 92679, 92678, 95376, 95377, 95391, 95304, 93668, 93673, 94535, 95075, 95570, 96091, 93562, 93592, 96161, 91042, 93274, 96134, 95379, 93276, 95380, 95382, 92780, 92782, 95984, 95383, 92277, 92278, 95735, 92391, 95482, 94587, 91608, 91786, 91784, 95485, 95687, 95688, 91354, 91355, 95251, 92082, 94972, 95252, 91607, 93563, 91405, 91406, 91401, 91411, 90291, 93003, 93001, 93004, 91046, 95385, 92280, 95486, 92861, 96092, 96135, 92084, 92083, 95689, 95254, 91789, 94598, 94597, 94596, 94595, 95690, 92086, 93280, 95986, 95386, 95076, 96093, 96094, 95736, 93283, 96136, 95571, 91790, 91791, 91792, 91307, 90069, 95255, 95691, 95605, 91361, 95387, 92683, 92281, 95488, 96137, 95692, 92282, 95589, 96096, 90604, 90605, 90606, 90601, 90602, 90603, 92595, 95987, 95490, 95573, 95988, 90744, 95257, 95693, 92596, 95492, 91306, 92283, 95694, 95388, 93669, 95493, 93285, 94973, 95258, 93286, 95695, 95776, 91367, 91364, 91371, 93287, 92397, 92398, 95697, 92886, 92887, 95494, 95389, 94599, 96097, 95991, 95993, 92399, 92284, 95698, 95595
MAP OF SERVICE AREA: