What Is a Walk-in Tub Shower Combo?
Falls are the primary cause of injury and death in older adults 65+ in the US, with one fall occurring every second. The slippery surfaces that come with water make showers one of the most at-risk areas for such injuries.
Thankfully, there are precautions you can take to avoid slips and falls. For example, a walk-in tub shower combo can allow you to take your mobility chair into the shower. Plus, you'll avoid losing your footing because there's no high edge to step over.
We've created this handy walk-in tub guide to teach you everything you need to know about walk-in tub showers, including how they work, the cost, and the best styles to consider. Read on to learn more.
What to Know About Walk-In Bathtub and Shower Combos
If you're thinking about remodeling your bathroom, a walk-in tub shower combo is an excellent upgrade to consider.
A walk-in tub shower has a swinging door and a very low threshold to step over when you enter the shower. This is often preferred by senior citizens or people with limited mobility. In addition, eliminating the risk of lifting your leg over the high tub wall will significantly reduce your chance of falling.
Walk-in tubs with showers usually include a full enclosure in addition to a showerhead. As a result, the user can shower rather than bathe for more convenience when it comes to maintaining personal hygiene. Additionally, handrails and comfortable seats add to the safety and functionality of most walk-in bathtub shower combos.
How Do They Work?
With standard walk-in tubs, you must step inside and close a water-tight door before waiting for the tub to fill with water. However, walk-in tub shower combos don't need to be filled at all (no more waiting!). Instead, you can shower normally if you choose. Plus, with a standing shower head, cleaning the walls of your shower is a breeze.
The Benefits of a Walk-In Tub Shower Combo
Are you wondering if you need a walk-in tub shower combo? Check out these amazing benefits:
Superb Safety Features
In addition to handrails and a low threshold, the safety features in walk-in tubs are very useful to the elderly or disabled homeowner. Older people can move in and out of the shower more easily.
Increase Your Home's Value
A walk-in tub shower combo could increase the value of your home when you sell it or renovate it. However, a walk-in tub may be more appropriate for elderly people seeking to age in place than it would be for a young family with children. Still, many families opt for these tubs to prevent slips and falls.
Extra Comfort
Walk-in bathtubs come with wider seating, handrails, and wand shower heads to enhance your bathing experience. Whirlpool jets may be included for your enjoyment and physical well-being.
Boosts Mobility
Many older people benefit from walk-in bathtubs because they eliminate the need to extend their legs over the tub's side. Walk-in bathrooms generally have built-in bath lifts to make accessibility easier as well. This gives senior citizens more independence with their personal hygiene.
Safety Options to Consider
Ensure the model of the walk-in tub shower combo that you choose includes all the safety features important to you. Most models come with ADA-compliant seats, anti-slip surfaces, and shower grab bars.
Low Threshold
Stepping over a standard bathtub wall is very difficult for some people and is often the cause of falls. Walk-in showers with low thresholds have a little curb to step over.
Anti-Slip Surface
In walk-in shower combos, non-slip floors are crucial since some people tend to stand up a lot. Most walk-in bathtubs have textured floors that reduce the risk of bathroom falls.
Leak-Proof Door
There is an airtight seal around the door of a walk-in bath, preventing water from leaking into the room. Because the door opens inward, the water pressure prevents it from accidentally opening during a bath. Most walk-in tubs include handles that create a watertight seal.
Built-in Grab Bars
Bathrooms with slippery surfaces can benefit from grab bars. Most walk-in shower combos come with grab bars to help prevent falls.
Add-On Luxury Features
In addition to safety options, you can add luxury features like aromatherapy, color chromotherapy, purification, ozone therapy, hydrotherapy, and more to your new bathtub. These incredible features can completely transform your bathing experience.
In-Line Heater
The in-line heater in walk-in tubs keeps the water temperature uniform throughout your bath. This eliminates the need to keep refilling the bath with hot water.
Self-Cleaning Jets
To clean the bathtub more thoroughly, the self-cleaning jets recirculate the existing water. They restrict water circulation to the tub's internal plumbing. This gives your tub a better cleaning.
Quick Drain Technology
Baths are drained with a fast-draining mechanism that reduces the time it takes to drain water, making bathing more relaxing for all. Walk-in tub shower combos have an ergonomic design that minimizes standing.
Anti-Scald Technology
In response to changes in pressure, anti-scald devices reduce the flow of hot water from the faucet. This feature prevents the water from reaching its maximum temperature to avoid burns.
Chromotherapy LED Light
With chromotherapy, the watercolor of your bath can be changed to enhance your mood. This is a therapeutic form of treatment for mental and physical well-being.
Shower Option
Choose a walk-in bath shower combo for the option of a fixed showerhead. You can use it while standing or sitting.
Who Needs a Walk-In Bath Shower?
Anyone can enjoy a walk-in tub shower combo. The safe and comfortable design is especially helpful for:
Disability Patients
People with disabilities must have access to an accessible bathroom. Walk-in tubs are often designed to fit wheelchairs in compliance with the standards set by the Americans with Disabilities Act (ADA).
Homeowners Looking to Make Upgrades
Your home's value would increase if you installed a walk-in tub in the bathroom. An elderly-friendly home may appeal to potential buyers who need extra physical care.
The Elderly
Older homeowners typically fall more often. An investment in a walk-in shower combo allows seniors to take a bath with minimal assistance. Unlike standard bathtubs, walk-in tubs have safety features like grab bars.
In-Demand Walk-In Tub Styles
Thankfully, you're not stuck with just one design. There are all different kinds of walk-in tubs available, including the following.
Tub-Shower Combo
Some walk-in tubs come with a handheld shower built in, while others allow you to add one. This version is not available from all manufacturers. The shower diverter valve allows you to direct water between the tub faucet and the showerhead with a shower-tub combo.
Wheelchair-Accessible Tub
To use a wheelchair, you'll need a walk-in tub and shower combo with an L-shaped door. It should also have an ADA-compliant seat that lets you move between the seat and the wheelchair.
Jetted Tub
You can choose between water jets or air jets in jetted tubs. There are multiple hydrotherapy nozzles attached to flexible pipes around a jetted tub. Some walk-in tubs include water jets that provide muscle relief. You can enjoy a therapeutic and comfortable shower experience with water jets or air jets that massage your body.
Soaker Tub
In addition to soaking tubs that come in a variety of sizes, walk-in tubs have high walls and a wide seat for your convenience. They are designed to submerge your body in water and are larger than regular bathtubs.
Hydrotherapy Tubs
The tub's whirlpool and air jets produce bubbles that create a spa-like experience. No matter what your age or fitness level, hydrotherapy can enhance your health and well-being.
Bariatric Tubs
The size and shape of a bariatric walk-in tub are similar to other walk-in tubs, except the door and seat are wider. This type of walk-in tub has bigger doors that make it easier to get in and out of the tub.
What to Consider When Choosing a Walk-In Tub Shower Combo
There are several essential considerations you should think about before making your purchase, including the following. By making sure that all bases are covered beforehand, you'll be able to choose the right model for your needs.
Safety
In addition to installing grab bars on both sides of the tub and shower enclosure, the tub must have a low lip around its edge to help prevent falls. Safety should always come first. You should also ensure the faucet handle is easily accessible.
Price
If you decide to invest in a walk-in tub shower combo, you will most likely incur some upfront costs. However, the investment will pay off in comfort, peace of mind, and independence. In addition, you can create a spa-like atmosphere in your bathroom when you install a walk-in tub.
Installation Requirements
Does your bathroom have space for the walk-in tub shower unit? Do you need to remodel to make room for it? Consider these factors before making your purchase.
Accessibility
The convenience of a safe bath is enhanced when your new walk-in bathtub shower combo is designed with accessibility in mind. Choose products with low thresholds, wide doors, and spacious seats to achieve this goal. These elements make it easier for individuals to use the tub and shower independently and comfortably.
Design
Think about the design and style of the walk-in tub when you are shopping. Would you like something that fits your home's decor? Are you looking for something upscale, traditional, or maybe even contemporary?
When it comes to showers, it's important to remember that you don't necessarily have to purchase a traditional shower head. In addition to rain heads, handheld sprayers, body sprayers, and massage nozzles, today's manufacturers offer a wide array of bathing options.
Door Design
It is essential to consider the door design when it comes to the safety and ease of use of your tub.
A walk-in tub has a door that opens inwards or outwards. Outward-opening doors make it easier for people with limited mobility to navigate them and are the only type of door that can accommodate wheelchair users. It is more affordable and space-saving to choose an inward-opening door if your bathroom is small or you have a limited budget.
Storage
The storage aspect is another factor to consider when choosing between a stand-alone tub and a walk-in tub shower combo. If you plan to purchase a walk-in tub, you may want to consider one with storage shelves, especially in smaller spaces.
Shelves keep everything organized and easy to locate. They also provide additional storage space for toiletries, bath towels, and other items that would typically clutter your bathroom countertops.
Durability
Each material has unique benefits and drawbacks. For example, stainless steel is very durable, resistant to scratches, and does not corrode. However, it tends to rust over time.
Ceramic tiles are strong and durable, but tend to chip and break down over time. Cast-iron enameled with porcelain is highly durable. For those who desire a sleek appearance without sacrificing strength, acrylic is an excellent choice. Fiberglass-reinforced plastic is lightweight and flexible, making it perfect for smaller spaces.
Size and Weight Limits
Depending on the unit you are looking at, some sizes accommodate larger individuals. Make sure the size you choose accommodates you and your home comfortably.
It is also a good idea to measure how wide the tub's opening is. If you use a wheelchair or have a wide body shape, a wider door will improve accessibility and safety.
The threshold height is the lip that you must step over when you open your tub's door. If you can't walk or struggle with high steps, lower thresholds will be safer.
Additional Features
When it comes to walk-in bathtubs with showers, the basic models come with relatively limited features. If you want things like massage jets or additional grab bars, you may need to upgrade.
What is the Average Cost of a Walk-In Tub Shower?
Depending on local labor rates and the size of the tub, walk-in tub shower combos cost an average of $2,500 to $6,000 to install. It is possible to spend more than $10,000 on larger bathtubs with therapeutic amenities. This is a great deal, considering a standard new shower costs anywhere between $1,500 – $8,000 on average.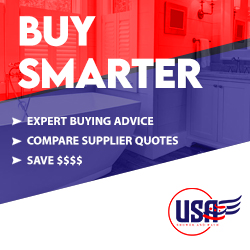 A walk-in tub and shower combo with several accessories will typically cost more to install. Any changes to the bathroom layout or plumbing that result from adding the walk-in tub can also increase the installation cost.
If you end up renovating your entire bathroom, check out this helpful guide to setting a bathroom renovation budget and learn more about what is involved.
Compare Prices With USA Shower and Bath
The USA Shower and Bath team is dedicated to helping you get the perfect walk-in tubs and showers for you. We want you to know about all of your options when it comes to walk-in tub showers, so you can make an informed decision and get the best price.
You can easily find reliable bathroom remodeling companies with USA Shower and Bath, and you can learn about features and prices for the remodel of your bathroom. Let us help you on the path to designing the bathroom of your dreams!
Upgrade Your Bathroom With a Walk-In Tub Shower Combo
You can solve a wide variety of problems with walk-in tub shower combos. The opportunity to enjoy a relaxing soak while maintaining independence is available to everyone, whether they live in a small apartment or retirement community. They prevent falls and injuries associated with regular bathtubs and showers.
Furthermore, walk-in tubs come in many sizes and styles, so you can customize your experience to suit your needs. Whether you need a walk-in bathtub or not, we hope our walk-in tub shower combo guide helps you make a more informed choice. Contact us today for a quote on your bathroom renovation needs!